a
Naval Forces News - Russia
Russian Navy Plans to Assign 30 Kamov Helicopters to Each Mistral class LHD
Each of the two
Mistral-class landing ships
being built in France for the Russian Navy will have air wings consisting of 30 Ka-52K and Ka-29 helicopters, Izvestia newspaper reported on Wednesday.
"These will be air wings comprising carrier-based and land-based elements to ensure fast rotation of the helicopters for repairs or replacement due to combat losses," Izvestia quoted a Defense Ministry source as saying.
Ka-52K Helicotper model (naval version of Ka-52 Alligator) shown at IMDS 2011. Notice the folding rotor and wings.
(Pictures: Vitaly Kuzmin)

A Mistral-class ship is capable of carrying 16 helicopters, four landing vessels, 70 armored vehicles, and 450 personnel.

"The actual number of helicopters on board will vary according to the operational tasks," the source said.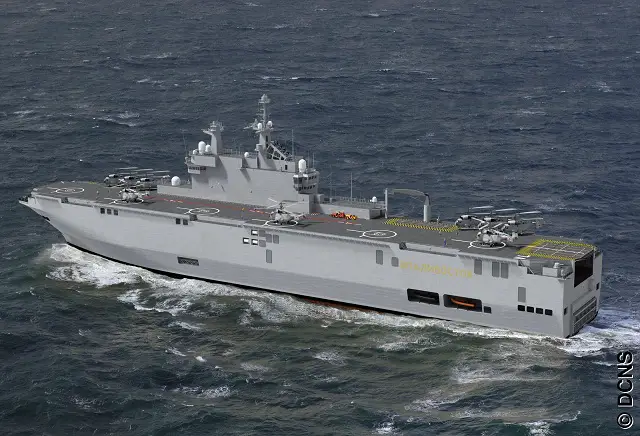 DCNS is supplying two BPC-type projection and command vessels to Russia under a contract that came into effect at the end of 2011.

Prototypes of a naval version of the Ka-52 Alligator attack helicopter are under construction at the Progress plant in Russia's Far East. The flight tests are expected to start in 2014.

Ka-29 Helix has been originally designed for the Soviet navy as a dedicated assault transport helicopter, and its adaptation for Mistrals will be less time-consuming and costly.

Russia and France signed a $1.2-billion contract for two French-built Mistral class ships, including the transfer of sensitive technology, in June 2011. Two more ships are expected to be 80% built in Russia, 20% in France.

The first Mistral class warship is expected to be put in service with the Russian Navy in three years.

The Russian military has said it plans to use Mistral ships in its Northern and Pacific fleets.