a
Naval Forces News - Indonesia
Fire destroys brand new North Sea Boats 63m Stealth Fast Missile Patrol Vessel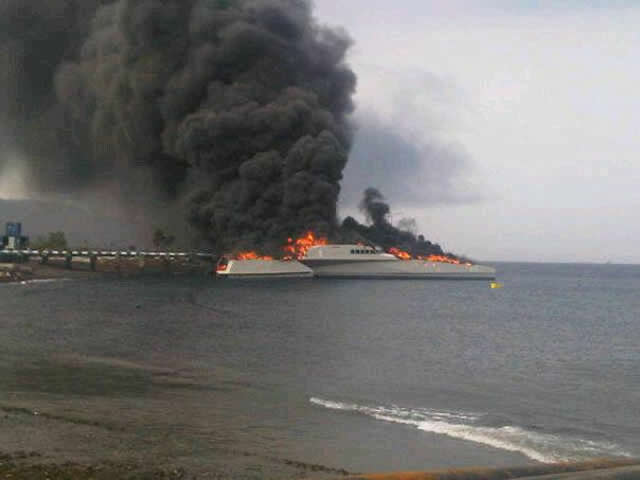 " KRI Klewang " trimaran on fire
(picture: Internet)

No casualties have been reported but the brand new vessel worth $12 million USD appears to be lost. The incident reportedly happened during maintenance. Indonesian Navy already announced that they would deploy a team to investigate the exact cause of the fire which lead to the loss of the trimaran vessel.

The new 63 m Stealth Fast Missile Patrol Vessel " KRI Klewang "
(picture: North Sea Boats)

Launched on Friday 31st August, 2012 at PT Lundin's shipyard facility in Banyuwangi, East Java, the Fast Missile Patrol Vessel (FMPV) employs a modern "Wave Piercing" trimaran design. This allows the vessel to cut-through waves rather than rise up and over them, and the increased beam provides inherent stability. This combination of features reduces both pitching and rolling, creating a stable weapons platform, and enabling the vessel to comfortably and safely maintain higher average speeds in adverse conditions.
The FMPV has "Stealth" design characteristics, and incorporate features that minimise detection by reducing Radar, Infra-Red, Acoustic and Magnetic signatures. Stealth properties are further improved as there are no reverse-angle bow overhangs to reflect radar signals, as seen on conventional hull forms. Weaponry, including missiles and naval guns, and the ships 11 m high-speed RHIB, are discreetly concealed or shaped to meld into the superstructure profile.

PT Lundin will issue an official statement relating to the incident on Monday.