a
Naval Industry News - Netherlands, Bahamas
Royal Bahamas Defence Force contracts Damen for fleet of long range patrol craft

Following a six-year acquisition program, the Government of the Bahamas has announced the signing of a Letter of Intent to acquire 9 vessels for the Royal Bahamas Defence Force and construction work for their naval bases. The contract has been placed with Damen Shipyards Group, headquartered in Gorinchem, the Netherlands.

In announcing the contract, the Minister of National Security, the Hon. Dr. Bernard Nottage, stressed that his Government was determined to protect the security and economic well-being of the people of the Bahamas and this order was a powerful endorsement of this commitment.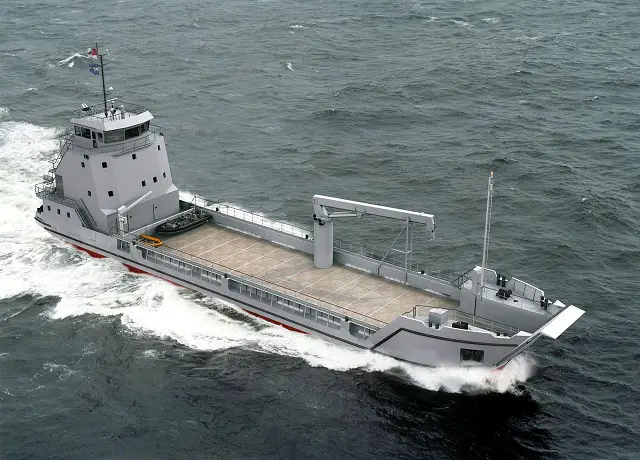 Roll-On, Roll-Off landing craft (Stan Lander 5612)
(Picture: Damen)
New fleet
The fleet of vessels includes a dedicated roll-on, roll-off landing craft (a Stan Lander 5612) which will be fitted with a 25 tonne crane and demountable disaster relief equipment. Special containers will be acquired to provide emergency relief, medical facilities, desalinated water and sanitary equipment which will rapidly be deployed in the event of a natural disaster. In addition, eight patrol vessels, four of the Damen Stan Patrol 4207 type and another four type SPa 3007, will join the Bahamas' fleet.

Damen Coastal and Offshore Patrol Vessels already operate for years in the coastal waters of the USA, Canada, Jamaica, Barbados, Mexico, Honduras, Cape Verde and the Netherlands.

The specialised long range patrol craft are designed to operate in the shallow waters of the Bahamas and will help to plug the gaps in the security network while addressing the concern of local fishermen who have been demanding more protection for this vital sector of the economy.

Bahamas Class upgrade
Included in the contract is a mid-life upgrade of the Bahamas Class vessels that entered service in 1999. This upgrade will be undertaken in the Bahamas under Damen's supervision and will extend the operational lifecycle of these vessels for several years.

(Video: Damen)
Naval base construction works
The project will include the acquisition of a fleet of various vessel types and the upgrading and construction of three bases in the Bahamas. There will be additional dredging works to facilitate the new long range patrol craft and to provide the Defence Force with first class facilities.

Partnership with Van Oord
Damen has been in business for over 85 years. In that time Damen has not only specialised in vessel design and shipbuilding, but also in the logistical and civil engineering challenges that often surround major new building projects. For the Royal Bahamas Defence Force project the company is partnering with one of the world's largest dredging companies – Van Oord – to deliver the entire package in the shortest possible time frame, commencing in early 2014. The contract will include a spares and training package and great emphasis will be placed on skills transfer to ensure the vessels can be maintained and operated by Bahamians.

Much of the work to be undertaken by Van Oord will be subcontracted to local partners and will enhance access to Matthew Town in Greater Inagua and Gun Point in Ragged Point. Additional works and marine assets are earmarked in Bimini and Grand Bahamas to ensure the northern zone is also fully protected.

Damen Area Director Americas, Mr Sander van Oord, said: "Damen is a company that prides itself on the quality and performance of the ships we build. We are delighted to welcome the Government of the Bahamas to our family and will strive to deliver this package on time and within budget. These are the hallmarks of Damen that have helped us become market leader in the Caribbean."