a
Defense Industry News - France
DCNS briefed French and Royal Navy submarine forces Admirals on Barracuda SSN program
In April 2013 Vice-Amiral d'Escadre (Squadron Vice-Admiral) Coriolis, commanding officer of the French Navy's FOST (for Force océanique stratégique or Strategic Oceanic Force), and his Royal Navy counterpart Rear Admiral Corder, Commander Operations (COMOPS), visited the Barracuda SSN combat system shore integration facility located at Toulon naval base, Southern France.

All the equipment needed for the integration, the validation interfaces and the combat systems of the future class of SSN will be installed in this center located ashore before the start of the trial period. For the next three years, all the features of the combat system will be tested and checked before their installation onboard the submarine.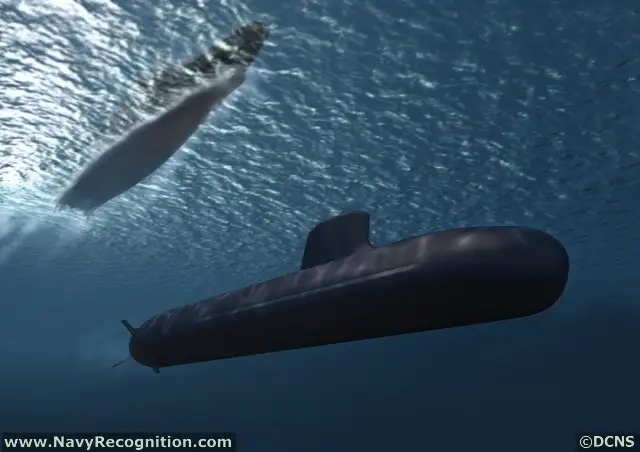 Barracuda-type SSNs will replace the French Navy's current-generation Rubis/Améthyste-class boats
(Picutre: DCNS)

During the briefing, which illustrates the willingness of DCNS and the French Navy to join their technical and maritime know-how for reaching a new level in terms of combat system ergonomics, many innovations were presented:

» An evolution of the underwater detection suite present on current French Navy SSBNs
» A non-penetrating optronic mast replacing conventional (optical) periscopes
» An electronic navigation aid software
» An increased weapon fit (twice the capacity of the existing Rubis class SSN)
» A Combat Management System capable of integrating and fusing above and under water sensors data

Between 2017 and 2027, Barracuda-type SSNs will replace the French Navy's current-generation Rubis/Améthyste-class boats. Mission capabilities will include intelligence gathering and special operations (by commandos and special forces), anti-surface and anti-submarine warfare, land strikes and participation in joint operations wherever the type's interoperability and associated capabilities (discreet communications, tactical datalinks, etc.) are required. The weapons payload will include next-generation type F21 heavyweight torpedoes, SM39 anti-ship missiles and MdCN naval cruise missiles.