a
Naval Forces News - Japan, USA
USMC lands MV-22 Osprey on JMSDF helicopter destroyer JS Hyuga (DDH 181) for the first time
The U.S. Marine Corps marked history by landing an MV-22 Osprey tilt-rotor aircraft on a Japan Maritime Self-Defense Force helicopter destroyer JS Hyuga (DDH 181) for the first time during amphibious exercise Dawn Blitz. Dawn Blitz is a scenario-driven exercise led by the U.S. 3rd Fleet and 1 Marine Expeditionary Force that will test participants in the planning and execution of amphibious operations through a series of live training events.
Video: AP
"The very first landing of an MV-22 Osprey on a Japanese ship is a historic moment," said Marine Brig. Gen. John Broadmeadow, adding that the exercise provided the U.S. military "an opportunity to enhance our longstanding relationship with the Japanese and to highlight the capabilities of the MV-22 Osprey, which allows the Marine Corps to quickly respond to a crisis when launched from sea or land."

The V-22 Osprey is a joint service, multirole combat aircraft that uses tiltrotor technology to combine the vertical performance of a helicopter with the speed and range of a fixed-wing aircraft. With its nacelles and rotors in vertical position, it can take off, land and hover like a helicopter. Once airborne, its nacelles can be rotated to transition the aircraft to a turboprop airplane capable of high-speed, high-altitude flight.

The Hyuga-class helicopter destroyer is a type of helicopter carrier built for the Japan Maritime Self-Defense Force (JMSDF). Two ships of the class were built to replace the two 7,000-ton Haruna-class helicopter destroyers. The new ships are the largest combatant ship operated by Japan. They may accomodate up to 11 helicopters.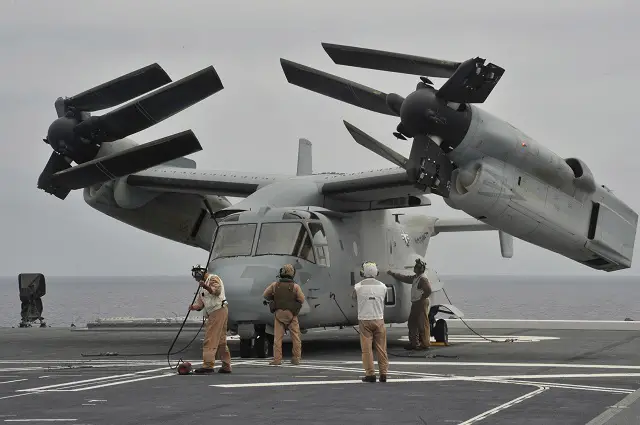 PACIFIC OCEAN (June 14, 2013) U.S. Marines inspect an MV-22 Osprey tilt-rotor aircraft after landing on the Japan Maritime Self-Defense Force helicopter destroyer JS Hyuga (DDH 181) during amphibious exercise Dawn Blitz. Dawn Blitz is a scenario-driven exercise led by the U.S. 3rd Fleet and 1 Marine Expeditionary Force that will test participants in the planning and execution of amphibious operations through a series of live training events. (U.S. Navy photo by Mass Communication Specialist Seaman Molly A. Evans/Released)