a
Naval Forces News - USA
U.S. Navy to Commission Independence class Littoral Combat Ship USS Coronado (LCS 4)
The U.S. Navy will commission its newest littoral combat ship, the future USS Coronado (LCS 4), April 5, during a ceremony at Naval Air Station, North Island in Coronado, Calif.

Vice Chief of Naval Operations Adm. Mark Ferguson will deliver the ceremony's principal address. Susan Ring Keith, a long-time leader in the San Diego community, will serve as ship's sponsor. The ceremony will be highlighted by a time-honored Navy tradition when Keith gives the first order to "man our ship and bring her to life!"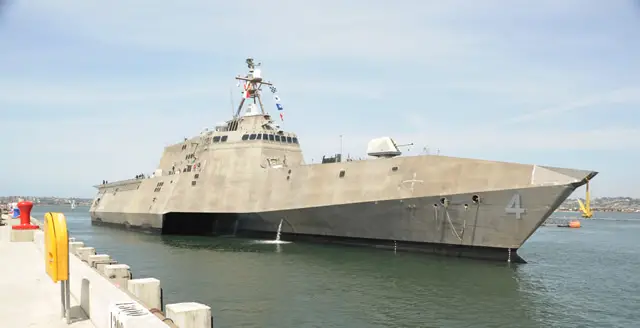 SAN DIEGO (March 28, 2014) The Navy's newest littoral combat ship Pre-Commissioning Unit (PCU) Coronado (LCS 4) arrives at Naval Air Station North Island in preparation for its commissioning ceremony scheduled April 5. Coronado is the third U.S. Navy ship to bear the name of the "Crown City" and is the second littoral combat ship of the Independence variant that features an innovative, trimaran hull. (U.S. Navy photo by Senior Chief Mass Communication Specialist Donnie W. Ryan)
"The commissioning of USS Coronado is a celebration of the history of the great city of Coronado and its lasting relationship with our Navy and Marine Corps. The sailors aboard LCS 4 will bring this mighty warship to life with their skill and dedication, honoring her namesake and our nation for years to come," said Secretary of the Navy Ray Mabus. "When she sets sail for distant shores, Coronado, and ships like her, will have a vital role maintaining freedom of the seas, and providing naval presence in the right place, all the time."
Cmdr. Shawn Johnston, a native of North Carolina, is the commanding officer of the ship's Gold Crew and will lead the core crew of 40 officers and enlisted personnel. The 2,790-ton Coronado was built by Austal USA Shipbuilding in Mobile, Ala. The ship is 417 feet in length, has a waterline beam of 100 feet, and a navigational draft of 15 feet. The ship uses two gas turbine and two diesel engines to power four steerable water jets to speeds in excess of 40 knots.
Designated LCS 4, Coronado is the fourth littoral combat ship and the second of the Independence variant. Named for Coronado, Calif., it is the third Navy ship to bear the name. USS Coronado (LCS 4) will be outfitted with reconfigurable mission packages and focus on a variety of mission areas including mine countermeasures, surface warfare and anti-submarine warfare.
The first USS Coronado (PF 38) was a patrol frigate and served as a convoy escort during World War II. The subsequent Coronado (AGF 11) was designed as an Austin Class Amphibious Transport Dock (LPD) and was reconfigured to be an Auxiliary Command ship (AGF) in 1980 and subsequently served as the commander, Middle East Force flagship, then the commander, U.S. Sixth Fleet flagship in the Mediterranean, and subsequently the commander, U.S. 3rd Fleet flag ship in the Eastern Pacific Ocean prior to decommissioning in 2006.
Link to Independence class Littoral Combat Ship technical datasheet