a
Naval Industry News - India
India: Defence Minister Reviews Progress of Scorpene Submarine (P75) Construction at MDL
Hon'ble Raksha Mantri Shri Arun Jaitley accompanied by Admiral RK Dhowan Chief of the Naval Staff visited Mazagon Docks Limited, Mumbai on 27 Aug 14 and reviewed the progress of the Project 75
Scorpene submarines
as well as the other ongoing warship building projects including P-15 B class stealth destroyers .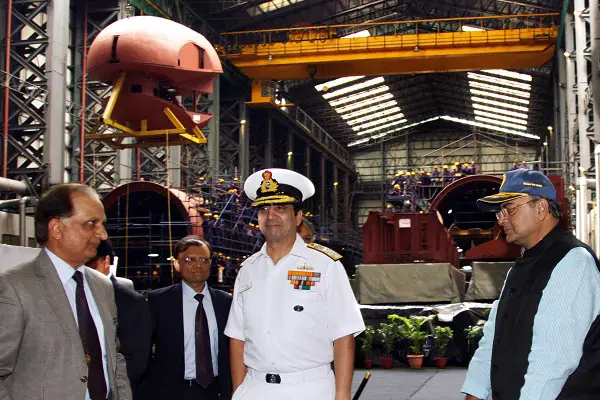 The Hon'ble Raksha Mantri (RM), Shri Arun Jaitley, interacting with the Chief of Naval Staff, Admiral RK Dhowan and Chairman and Managing Director of Mazagon Docks Limited, Rear Admiral RK Shrawat (Retd) in the modular work shop commissioned as a part of the Modernization Project of Mazagaon Dockyard Limited. Picture: Indian Navy
The visit of Raksha Mantri, within 3 months of taking over amply demonstrates the importance being accorded by the Government to the indigenous construction of submarines and warships. During his visit the Defence Minister inaugurated the Mazgaon dock Modernisation Project (MMP), which would significantly enhance the warship and submarine construction capability of the shipyard.

M/s Haskoning Nederland B.V. (HNBV), world renowned consultants in the field of marine construction, were appointed as consultant for this project. The major components created under MMP include a new Wet basin with level luffing cranes, 300-Ton Goliath Crane, Module Workshop, Stores Building, Shipyard transporter and Cradle & Assembly shop at a cost of Rs. 800 Crores approx.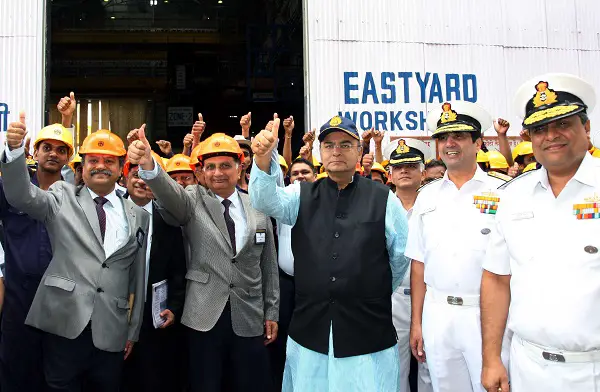 The Hon'ble Raksha Mantri (RM), Shri Arun Jaitley,
with workers of Mazagaon Dockyard Limited. Picture: Indian Navy
It may be recalled that Project 75 submarine construction project is a very important project for the country and Indian Navy. Six state-of-the-art submarines fitted with latest equipment are being built at MDL, Mumbai under collaboration with M/s DCNS France, giving a massive boost to the indigenous submarine construction capability of the country. With all the impediments & material hurdles resolved, the construction of the submarines is progressing on schedule to meet the planned delivery schedule of Sep 2016.
Presently, first three submarines of the project are in outfitting phase, and the systems of the first submarine are being 'Set to Work'. The Project is being reviewed at regular intervals at all levels at Naval Headquarters and Ministry of Defence (MoD) to gear up for the launch of the first submarine in Sep 2015. Preparations to induct these submarines are in progress and the selected crew has commenced training. The submarines will be initially based at Mumbai and shifted to operational base at Karwar after completion of trials. Necessary impetus is also being given by the government to create associated shore support facilities as per the Long Term Infrastructure Perspective Plan (LTIPP).


Link to Scorpène class SSK Submarine Technical Datasheet