a
Naval Defense Industry News - USA
Raytheon delivers first Block 2 Rolling Airframe Missiles to US Navy

Raytheon Company delivered the first Block 2 variant of its Rolling Airframe Missile system to the U.S. Navy as part of the company's 2012 Low Rate Initial Production contract. RAM Block 2 is a significant performance upgrade featuring enhanced kinematics, an evolved radio frequency receiver, and an improved control system.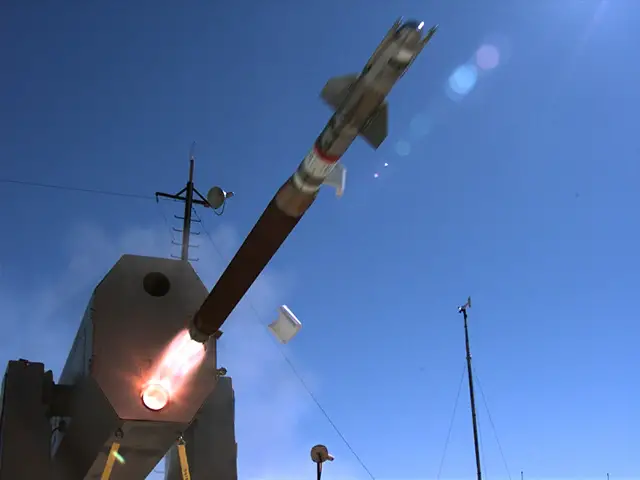 RAM Block 2
(Picture: Raytheon)
"As today's threats continue to evolve, RAM Block 2's enhanced features give an unfair advantage to naval warfighters across the globe," said Rick Nelson, vice president of Raytheon Missile System's Naval and Area Mission Defense product line. "Along with demonstrating a long-standing international partnership, the RAM program has a record of 91 consecutive months of contractual on-time deliveries, and continues its remarkable success rate of over 90 percent during flight tests."

RAM is a cooperative program between the U.S. and German governments with industry support from Raytheon and RAMSYS of Germany. The RAM Cooperative program has been in place for over 30 years and has enjoyed excellent integration and technology sharing between both countries.

The initial Block 2 delivery milestone was marked by a ceremony at Raytheon Missile Systems that was attended by U.S. and German naval dignitaries, and Raytheon leaders and RAM program and team members.

"It is a significant accomplishment for the RAM Program and the U.S. Navy to accept our first Block 2 Missiles on time and within budget," said USN CAPT John Keegan, RAM Major Program Manager. "It is extremely challenging to successfully transition from a development program to a production program. Our success with Block 2 is testament to the outstanding cooperative effort across the entire international team and is indicative of the technical competence and rigor evident throughout the Program."

About RAM
RAM is a supersonic, quick reaction, fire-and-forget missile providing defense against anti-ship cruise missiles, helicopter and airborne threats, and hostile surface craft. The missile's autonomous dual-mode, passive radio frequency and infrared guidance design provide a high-firepower capability for engaging multiple threats simultaneously. RAM is installed, or planned for installation, aboard more than 165 ships as an integral self-defense weapon for the navies of Egypt, Germany, Greece, Japan, the Republic of Korea, Turkey, the United Arab Emirates and the United States.