a
Naval Forces News - Russia
Russia's Sevmash Shipyard Laid Down Sixth Borey Class SSBN "Generalissimus Suvorov"
The sixth Borey-class nuclear-powered ballistic missile submarine (SSBN) was laid down on Friday during a ceremony at the Sevmash shipyard in Severodvinsk, northern Russia. (Sevmash is part of OCK the United Shipbuilding Corporation). Russian Deputy Prime Minister Dmitry Rogozin attended the ceremony.
Russia's third Borey class ballistic missile nuclear submarine, the Vladimir Monomakh
The Generalissimo Suvorov is the sixth Borey class SSBN and the third of the modified version (Project 955A). The exact nature of the modifications are still not clear at this time. Rumors mention major structural changes and a capacity to carry 20 ballistic missile but these have not been confirmed yet. The submarine is named after legendary Russian commander Alexander Suvorov, one of the few commanders in history who never lost a battle.

The three Project 955 Yuri Dolgoruky, Alexander Nevsky and Vladimir Monomakh submarines have already entered service with the Russian Navy. The Project 955A Knyaz (Prince) Vladimir and Knyaz Oleg submarines, which were laid down in 2012 and 2014, are currently under construction.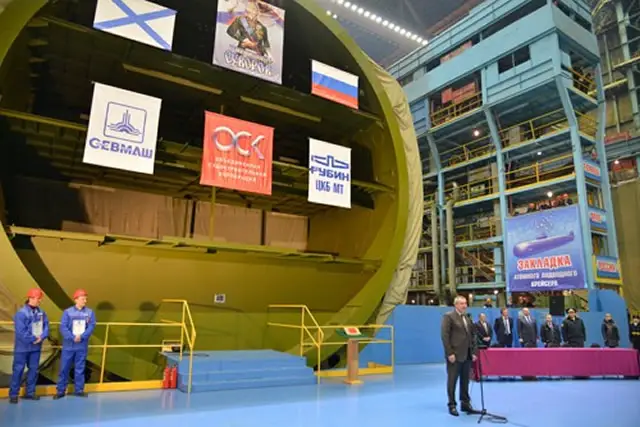 The keel laying ceremony. The Generalissimo Suvorov will be the third modified Project 955A SSBN
The Borey class, the Russian Navy's first post-Soviet ballistic missile submarine design, will form the backbone of the fleet's strategic nuclear deterrent force after older boats are retired by 2018. Russia expects eight of the boats to enter service by 2020. The submarines displace 24,000 tons, reach speeds of 29 knots (some 54 km per hour), can dive to 450 meters and carry crews of 107 people. The vessels will be armed with up to 16 Bulava submarine-launched ballistic missiles, which have range of over 8,000 kilometers.

The missile — developed specifically for the new Borey-class — has suffered a string of failures in past tests.

Last September during state trials of the Aleksander Nevsky nuclear-powered submarine a Bulava missile experienced a malfunction. Following this incident Russian Defense Minister Sergei Shoigu ordered to hold five additional launches of Bulava missiles.

Despite the test failures, the Russian military insisted there is no alternative to the Bulava as the main armament for Russia's new Borey-class strategic missile submarines.