a
Naval Forces News - USA
USNS John Glenn Mobile Landing Platform (MLP 2) Successfully Completes Acceptance Trials
The second Mobile Landing Platform (MLP), USNS John Glenn (MLP 2), successfully completed Acceptance Trials on Feb 7. The trials were conducted off the coast of the General Dynamics National Steel and Shipbuilding Co. (NASSCO) shipyard in San Diego, Calif. During the week of trials, the Navy's Board of Inspection and Survey (INSURV) conducted comprehensive tests to demonstrate and evaluate the performance of all of the ship's major systems.

The Military Sealift Command mobile landing ship USNS John Glenn (MLP 2) underway off the California coast. John Glenn successfully completed Builder's Sea Trials on Jan. 13. The ship is expected to be delivered to the Navy in March following Acceptance Trails. (U.S. Navy photo/Released)

"The Mobile Landing Platform continues to perform extremely well," said Capt. Henry Stevens, Strategic and Theater Sealift Program Manager, Program Executive Office, Ships. "The Navy-Industry team successfully demonstrated the ship's major systems, with no major deficiencies identified.

MLP is a highly flexible platform that may be used across a broad range of military operations, supporting and executing a variety of missions including humanitarian support and sustainment of traditional military missions. The ship is able to easily transfer personnel and vehicles from other vessels such as the large, medium-speed, roll-on/roll-off ships (LMSRs) onto landing craft air cushioned (LCAC) vehicles and transport them ashore. The platform's open, reconfigurable mission deck will serve as an important flexible and transformational asset to the Navy as it can be reconfigured to support a wide variety of future operations.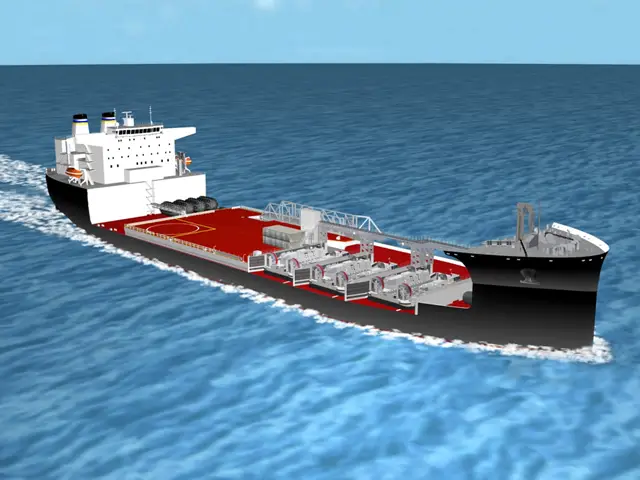 An artist concept of a mobile landing platform (MLP) ship
(Image: US Navy)

USNS John Glenn has a maximum speed of 15 knots and range of 9,500 nautical miles. The ship's size allows for 25,000 square feet of vehicle and equipment stowage space, tankage for 100,000 gallons of potable water and can hold 380,000 gallons of JP-5 jet fuel.

Acting as a mobile seabase, MLP will be part of the critical access infrastructure that supports the deployment of forces and supplies to provide prepositioned equipment and supplies with flexible distribution.

MLP 2 was christened on Feb.1 with delivery expected in March 2014. Once delivered, the ship will be owned by the U.S. Navy's Military Sealift Command (MSC) and operated by a 34-person civilian-mariner crew.