a
Naval Forces News - France, UK
Royal Navy Type 45 Destroyer HMS Daring attached to French Aircraft Carrier Strike Group
According the the French Navy, Royal Navy's
Type 45 Air Warfare Destroyer HMS Daring
was attached to the
Charles de Gaulle
Aircraft Carrier strike group from February 8th to 15th. The move is part of the Combined Joint Expeditionary Force (CJEF) and allows for better cooperation between the two navies a few days following the Franco-British summit on defense.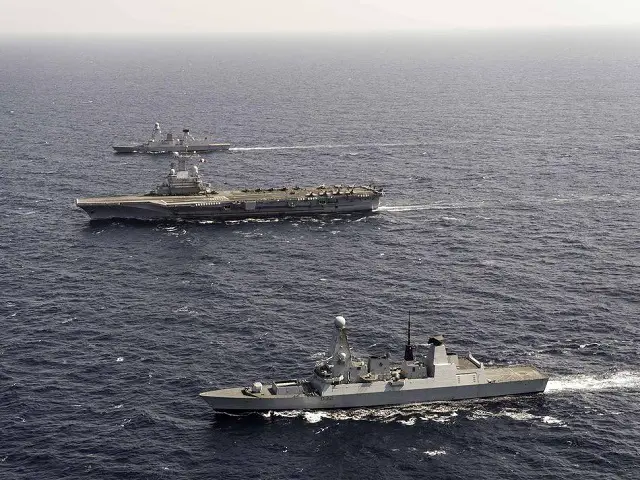 French Navy Horizon class Destroyer (background), Charles de Gaulle aircraft carrier (center) and Royal Navy's HMS Daring (foreground)
Picture: French Navy
From the Red Sea to the Mediterranean through the Suez Canal, first ship of the class
HMS Daring
destroyer's role was to provide the French aircraft carrier close and anti-air protection alongside the Horizon class air warfare destroyer
Forbin
.
During the mission, the British sailors conducted several maneuvers alongside their French counterparts to strengthen their ability to operate at the heart of a carrier group. Thus, several ADEX (Air Defense Exercises) were conducted which benefit both jet pilots (Super Etendard Modernisé and Rafale M) and sailors in charge of the anti-aircraft protection of the aircraft carrier group.
HMS Daring attachement to the "Gobal French Navy Strike Force" confirms the usefulness of incremental cooperation between the first two European navies.
T he Type 45 is an Anti-Air Warfare Destroyer conceived to protect UK and allied/coalition forces at sea and in the littoral against the full range of enemy aircraft and anti-ship missiles.
Link to Type 45 Destroyer technical datasheet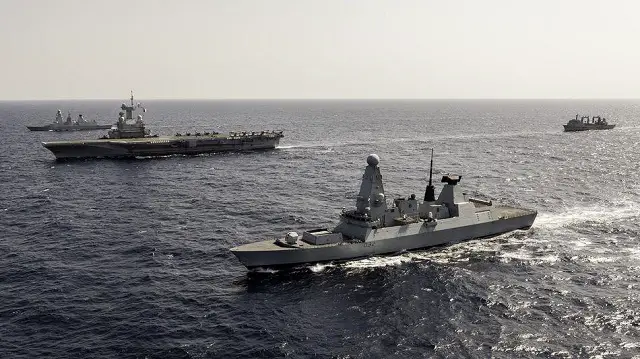 French Navy Horizon class Destroyer (background), Charles de Gaulle aircraft carrier (center) and Royal Navy's HMS Daring (foreground)
Picture: French Navy