a
Naval Forces News - Netherlands, Sweden
Dutch Navy to buy tugboats in cooperation with FMV Sweden
The Defence Material Organisation of the Royal Netherlands Navy (RNLN) has contracted Damen Shipyards Group for the delivery of five Harbour and Seagoing tugs. The contract has been made in cooperation with its Swedish counterpart: Swedish Försvarets Materielverk (FMV). Responding to current and future developments in emission reduction and environmentally friendly shipping, the RNLN has opted for a new Damen design: the ASD Tug 2810 Hybrid. The FMV has opted for another fit-for-purpose design: the ice-classed ASD Tug 3010 ICE.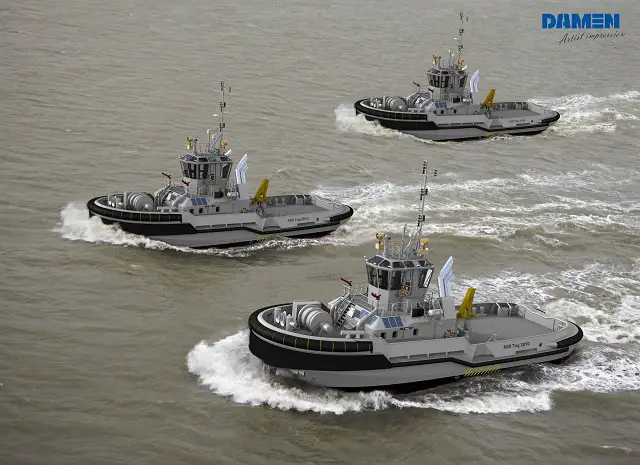 Damen ASD Tug 2810 Hybdrid RNLN
Image: DAMEN
Three tugs will enter service for the Dutch Navy and two will enter service for the Swedish Navy. The tugs are Commercial of the Shelf, which means that they are based on a proven design and product. Some alterations allowing optimal use for the respective navies will be implemented. The Dutch tugs will be of a Hybrid type whilst the Swedish tugs will be able to operate in icy waters.

The procurement of the tugs is a combined effort of the Defence Material Organisation and the Swedish Försvarets Materielverk (FMV). The five ASD Tugs will be delivered in 2015 and 2016. For the RNLN they will replace four tugs of the Linge Class.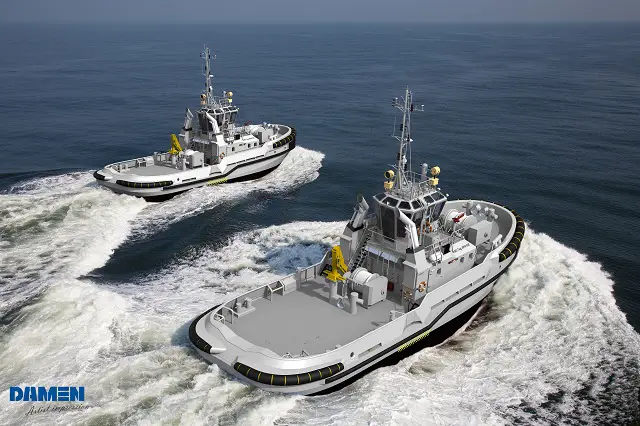 Damen ASD Tug 2810 ICE Marinen
Image: DAMEN