a
Naval Forces News - UK
Royal Navy AW159 Wildcat Helicopter lands for the first time on HMS Illustrious Aircraft Carrier
The Royal Navy's new helicopter has paid its first visit to HMS Illustrious – dropping in on the veteran carrier during a submarine hunting exercise off Cornwall. Wildcat, which will replace the long-serving Lynx on the front line from next year, touched down on Lusty in the middle of Exercise Deep Blue.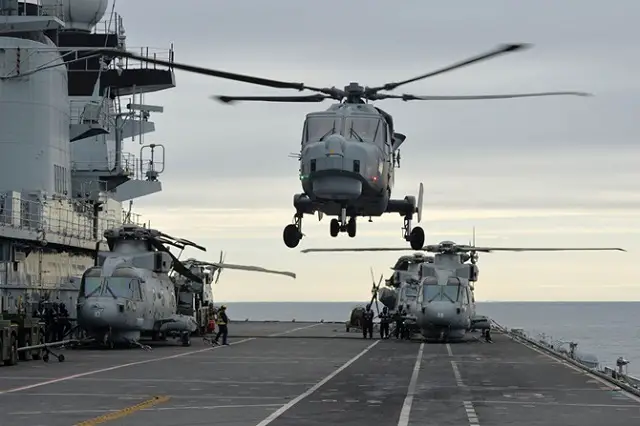 AW159 Wildcat lands for the first time on HMS Illustrious
picture: Royal Navy

The Navy's newest helicopter paid its first visit to one of the grand old ladies of the Fleet when Wildcat landed aboard HMS Illustrious off the Cornish coast.

The state-of-the-art helicopter, based with 700W Naval Air Squadron, dropped in on the veteran assault ship as the latter took part in the biggest anti-submarine exercise the Royal Navy has run in decades, Deep Blue.

Nine Merlin Mk2 helicopters have joined Lusty for the three-week war game, which began off the Lizard peninsula before moving out into the grey wastes of the Western Approaches.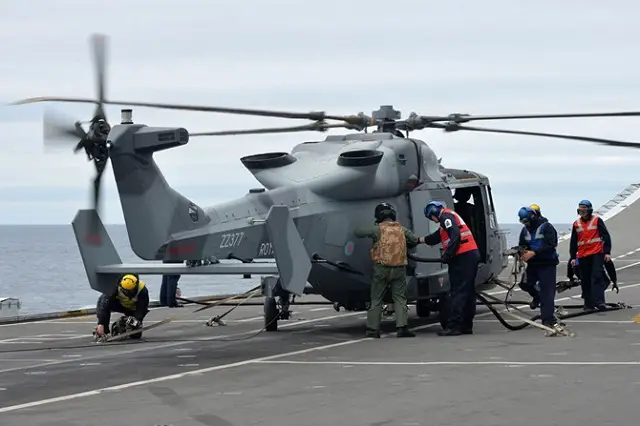 AW159 Wildcat on the deck of HMS Illustrious
picture: Royal Navy

The Merlins are flying around the clock as they try to hunt down Dutch diesel and British nuclear boat in the eternal game of anti-submarine warfare cat and mouse.
To support the exercise, however, there are regular flights between Royal Naval Air Stations back in the UK – delivering personnel, supplies, stores and the like.
The Wildcat was making one such delivery – on deck for a matter of minutes to drop off a passenger and take on fuel.
The successor to the Lynx is in the middle of extensive trials before entering front-line service next year.
"On a busy flight deck operating Merlin and Sea King helicopters, the latest addition to the Fleet Air Arm looked right at home," said Cdr Mike Ryan, Illustrious' Commander Air.
"As someone who was closely involved with bringing Wildcat into service, it was both a great pleasure and privilege to welcome this highly impressive new helicopter on to Illustrious for the very first time."
Wildcat will continue training and trials with 700W, based at RNAS Yeovilton in Somerset, until the end of July.
Then the squadron disbands and a new Wildcat squadron forms on August 1, 825 NAS, which will be the parent unit for training all air and ground crew working on the new helicopter, as well overseeing the flights which will operate from Royal Navy frigates and destroyers deployed around the globe.