a
Naval Forces News - USA
USS Somerset (LPD 25) amphibious transport dock Commissioned in Philadelphia
USS Somerset (LPD 25), the Navy's newest amphibious transport dock ship, commissioned during a formal ceremony at Penn's Landing in Philadelphia, March 1. USS Somerset represents the heroic actions of the 40 crew and passengers of United Flight 93, honoring their collective sacrifice and the tremendous courage displayed in the face of overwhelming adversity. Had it not been for their brave actions, the terrorists would have likely reached their intended target and countless more lives may have been lost.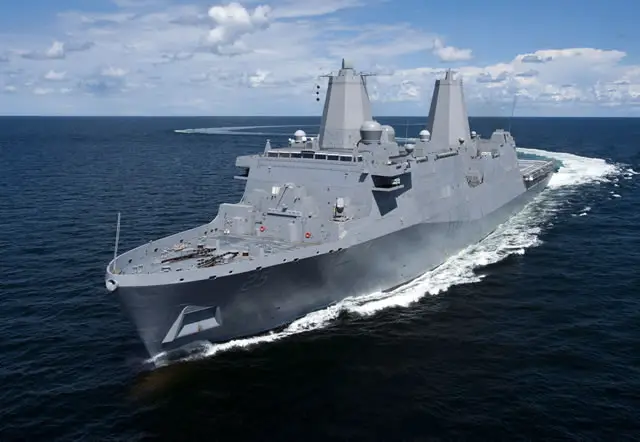 The Ingalls-built amphibious transport dock Somerset (LPD 25) sails through the Gulf of Mexico during builder's sea trials. Photo by Steve Blount

Thousands of guests, including military veterans and family and friends of the crew, witnessed the ship coming to life and enter the naval service. Distinguished guests included the Chief of Naval Operations (CNO), Adm. Jonathan Greenert and the Honorable Pat Toomey - United States Senator, Commonwealth of Pennsylvania.

The Commandant of the Marine Corps, Gen. James F. Amos, delivered the principal address and spoke of the ship and employment to the nation.

"Somerset is a welcomed edition to the Fleet, make no mistake, this vessel along with the other San Antonio Class Amphibious ships represent America's commitment to security around the world," said Amos. "When this ship sails the worlds oceans, she will carry the spirit and determination and the fighting spirit that has always defined America."

Somerset's commanding officer, Capt. Thomas L. Dearbon, spoke of her crew and her namesake's heroic actions.
Video: HII
"We are here today to not only honor and pay tribute to the heroes of United Flight 93, but also to celebrate the commissioning of this great ship USS Somerset," said Dearborn. "Somerset will leave a legacy that will never be forgotten by those wishing to do harm to this country. A ship is but a steel vessel, it is the crew that brings the ship to life. USS Somerset is truly a fine warship and the crew that mans her, is second to none."
At the conclusion of the remarks, Somerset's ship sponsor, Mrs. Mary Jo Myers, the wife of former Joint Chiefs of Staff retired Air Force Gen. Richard Myers, gave the time-honored command to "man our ship and bring her to life!"
"[Flight 93 passengers and crew members] exemplified such courage and bravery that day as they sacrificed themselves to protect others and to rally our nation they were indeed the first warriors in this war on terrorism," said Myers. "Today we come together as families, but mostly as Americans to celebrate and witness this momentous occasion and wish the USS Somerset and her crew Godspeed."
The commissioning was the culmination of a week-long celebration in Philadelphia honoring the ship, her crew and the legacy of the 40 passengers and crew member of United Airlines of Flight 93. The ship will be homeported in San Diego.

By Mass Communication Specialist (SW/AW) Elena Pence, USS Somerset Public Affairs