a
Naval Industry News - USA
Ingalls Shipbuilding Delivers National Security Cutter Hamilton to U.S. Coast Guard
Huntington Ingalls Industries' Ingalls Shipbuilding division delivered the National Security Cutter Hamilton (WMSL 753) to the U.S. Coast Guard today. The ship will be commissioned in Charleston, S.C., on Dec. 6. "Our performance on the National Security Cutter program is a blueprint for success in building high-quality, affordable ships," said Ingalls Shipbuilding President Brian Cuccias.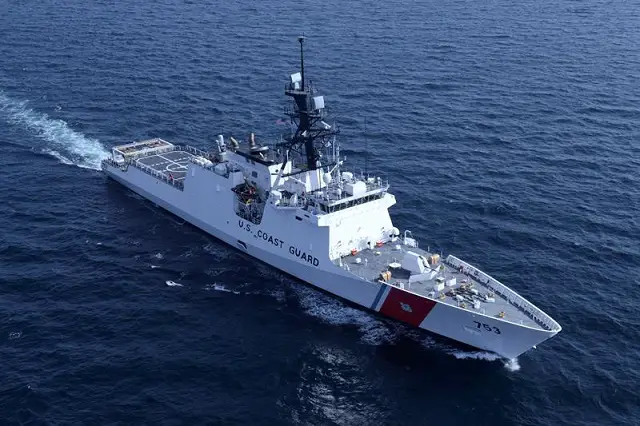 The National Security Cutter Hamilton (WMSL 753) successfully completed two days of acceptance sea trials last week in the Gulf of Mexico. Photo courtesy of the U.S. Coast Guard
"We've significantly improved our learning, efficiency and affordability with each successive ship in the Legend class, and this one, our fourth, is the best yet. The benefits of serial ship production are clear, and with our hot production line we expect for this to continue. Congratulations to the shipbuilders and to Capt. Douglas Fears and the crew of Hamilton."
Ingalls Shipbuilding Delivers National Security Cutter Hamilton to U.S. Coast Guard One month ago, Ingalls' test and trials team successfully completed acceptance trials on the ship by conducting extensive testing of the propulsion, anchor handling, steering and combat systems for the Board of Inspection and Survey. Today, the Coast Guard crew of Hamilton officially takes possession of the ship.
"I'd like to thank Huntington Ingalls Industries and the craftsmen here at Ingalls for building a fantastic ship," said Rear Adm. Bruce D. Baffer, the Coast Guard's assistant commandant for acquisition and chief acquisition officer. "I agree that this is the best National Security Cutter yet. It is an awesome ship, and it's going to serve us for decades to come."
Ingalls has delivered three NSCs, and three more are currently under construction. A seventh NSC, Kimball (WMSL 756), is scheduled to begin construction in early 2015. Hamilton will sail away from Ingalls on Nov. 1 en route to Charleston.
"After three years of fabrication and expert craftsmanship, Ingalls Shipbuilding has delivered a great ship to the Coast Guard," said Capt. Douglas Fears, prospective commanding officer of Hamilton. "The Coast Guard's Project Resident Office has fastidiously overseen the production of Hamilton through all key acquisition milestones. Finally, Hamilton's crew has prepared over six months for this day, and we are both honored and humbled to be entrusted with the task of bringing this great ship to life and readying her for decades of service to our nation."
Legend-class NSCs are the flagships of the Coast Guard's cutter fleet. Designed to replace the 378-foot Hamilton-class High-Endurance Cutters that entered service during the 1960s, they are 418 feet long with a 54-foot beam and displace 4,500 tons with a full load. They have a top speed of 28 knots, a range of 12,000 miles, an endurance of 60 days and a crew of 120.
NSCs are capable of meeting all maritime security mission needs required of the High-Endurance Cutter. They include an aft launch and recovery area for two rigid hull inflatable boats and a flight deck to accommodate a range of manned and unmanned rotary-wing aircraft. The Legend class is the largest and most technologically advanced class of cutter in the Coast Guard, with robust capabilities for maritime homeland security, law enforcement, marine safety, environmental protection and national defense missions. NSCs play an important role enhancing the Coast Guard's operational readiness, capacity and effectiveness at a time when the demand for their services has never been greater.