a
Naval Defense Industry News - South Africa
Reutech unveils its Super Rogue 3 20mm Naval RWS fitted with 4 LMM missiles at AAD 2014
At AAD 2014 (Africa Aerospace and Defence Exhibition which takes places from the 17 )to 21 September at air force base waterkloof near Pretoria, in South Africa) South African company Reutech Solutions unveils the Super Rogue 3 20mm naval remote weapon station (RWS).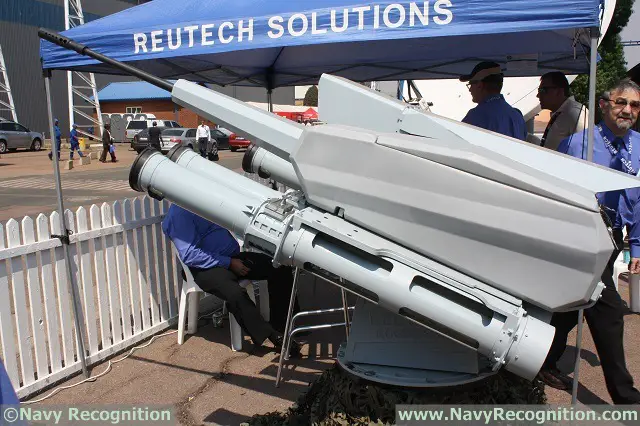 The new Reutech Solutions Super Rogue 3 naval remote weapon station at AAD 2014
Growing its place in the market, Reutech Solutions decided to augment this choice of weapon for the SuperRogue platform with the inclusion of the KAE cannon from Rheinmetall for the main, naval applications. Due to the ruggedness of its design, the KAE is ideally suited to coping with extreme maritime environmental conditions.

The KAE 20mm x 128mm is a rapid fire cannon, manufactured by Rheinmetall in Zurich, Switzerland, and is the successor of the well-known KAA cannons currently in service with more than 10 navies, such as Brazil, UK, Italy and Trinidad. These cannons are fully marinised and known for their ruggedness, ease of maintenance and operation, and high fire power.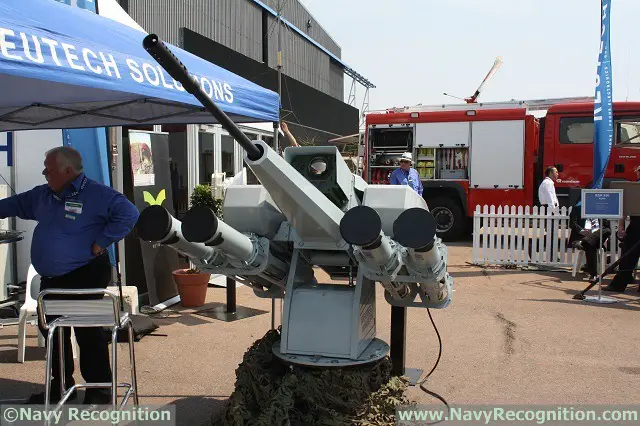 The Super Rogue 3 RWS stabilized platform consists of an externally mounted gun (with optional surface to surface missiles) controlled from inside the bridge or CIC using a hand controller and video display.
The weapon station showcased at AAD 2014 is fitted with 4 Thales LMM (Lightweight Multirole Missile) and a CM3 electro optical sight from French company SAGEM. According to Reutech, the Super Rogue 3 is ideally suited to naval applications such as:
- Stabilised primary weapon on patrol boats
- Countermeasure against asymetric threats on larger vessels

The previous generation of this turret, the Super Rogue 2 was succesfully integrated on board 3 patrol vessels built by French shipyard OCEA for Benin (32m FPB 98 Mk.I coastal patrol craft).