a
Naval Defense Industry News - China
Chinese Company Poly Technologies unveils a "Rocket Assisted Torpedo" system at AAD 2014
At AAD 2014 (Africa Aerospace and Defence Exhibition which takes places from the 17 to 21 September at air force base waterkloof near Pretoria, in South Africa) Chinese company Poly Technologies unveils its "Rocket Assisted Torpedo system. Poly Technologies, a subsidiary of China Poly Group Corporation, is a defense manufacturing and international trading company.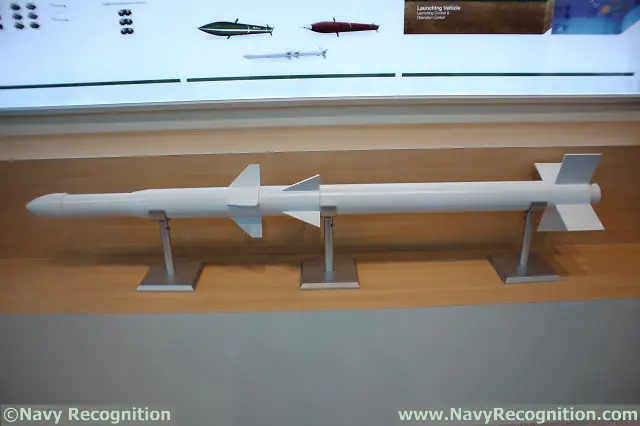 The concept consists in fitting a torpedo at the tip of a WS type rocket that can be launched from a truck in coastal area. A scale model of the rocket is show on Poly Technologies stant at AAD 2014
A Poly Technologies representative at AAD 2014 was not very talkative on details but explained the system was still just a concept and that no test fire have been conducted yet.

We were told that any type of torpedo may be fitted on the "WS" rocket. However it seems very unlikely to us that the rocket would be able to lift a heavy torpedo so the system is probably limited to light weight torpedoes exclusively.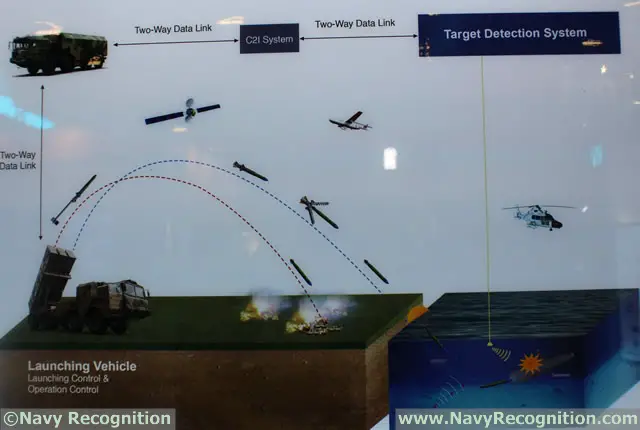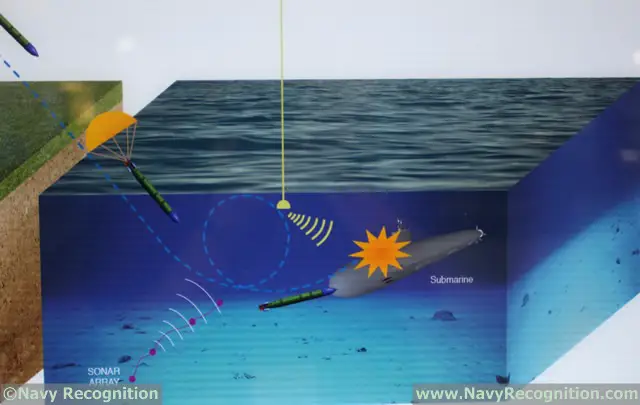 Conceptual overview of the Rocket Assisted Torpedo in action
Regarding the range, the Poly Technogolies representative explained the rocket (with the torpedo at its tip) could reach distances of around 100 Km. Detection and localisation of enemy submarines is achieved thanks to sonar arrays installed in coastal areas (on sea bottom).
Based on the conceptual images, our expert colleagues from Army Recognition can identify the launch vehicle as being a
WS-3 multiple launch rocket system
typically used as a classic MLRS.