a
Naval Forces News - Israel
Navies of China (PLAN) and Iran (IRIN) to conduct joint naval drills in the Persian Gulf
Two People's Liberation Army Navy (PLAN) vessels have docked at Iran's principal naval port for the first time in history, Iranian admirals told state television on Sunday, adding that the PLAN and Islamic Republic of Iran Navy (IRIN) would conduct four days of joint naval exercises.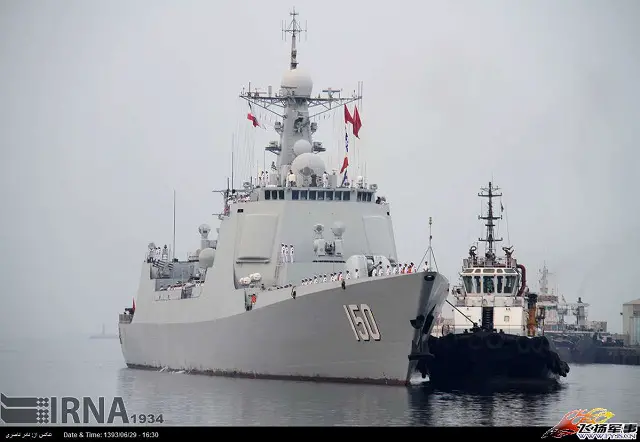 Chinese Navy Type 052C destroyer (NATO code name Luyang II class) Changchun arriving in Iran
On Sunday, Xinhua, the official Chinese news agency, reported that on Saturday, Chinese navy ships involved in protecting shipping in the Gulf of Aden stopped at an Iranian port for a "friendly visit". One of the vessels was the Changchun, a guided-missile destroyer, the report said.

The news agency posted images of one of the destroyers docking in the port of Bandar Abbas, where it was given a military welcome.
Commander of the 17th Chinese escort naval fleet Huang Xinjian (R front) shakes hands with an Iranian navy officer in southern port of Bandar Abbas, Iran, on Sept. 20, 2014. The 17th Chinese escort naval fleet docked in south Iran's Bandar Abbas port on Saturday for a five-day visit. (Xinhua/Ahmad Halabisaz)
According to Iranian media, the PLAN and IRIN are scheduled to conduct joint exercises, starting on Monday, focusing on rescue missions. China has been expanding the areas where its navy operates, most recently joining the effort to fight piracy in the Gulf of Aden and off the coast of Somalia.