a
Naval Defenes Industry News - USA
Lockheed Martin Receives Additional Electronic Warfare Contract To Protect The U.S. Navy's Fleet

The U.S. Navy awarded Lockheed Martin an additional $147 million contract to upgrade the fleet's electronic warfare defenses against evolving threats, such as anti-ship missiles. Under this low-rate initial production contract for Block 2 of the Navy's Surface Electronic Warfare Improvement Program (SEWIP), Lockheed Martin will provide 14 systems to upgrade the AN/SLQ-32(V)2 system on all U.S. aircraft carriers, cruisers, destroyers and other warships with key capabilities to determine if the electronic sensors of potential foes are tracking the ship.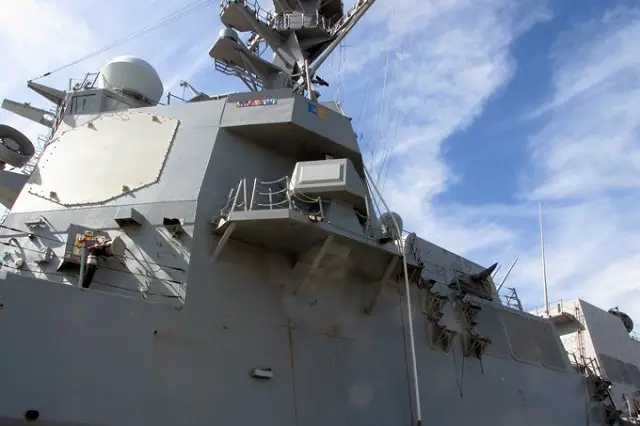 U.S. Navy installed the Lockheed Martin SEWIP Block 2 System on DDG-96 for operational testing over the summer.
"This subsequent SEWIP Block 2 contract continues our support of the U.S. Navy with capabilities that will rapidly introduce new technology to the sailors," said Joe Ottaviano, SEWIP program director for Lockheed Martin Mission Systems and Training. "Our fleets are facing a rapidly changing threat environment in theaters across the globe. This contract allows us to continue providing much needed technological advances that will help outpace our adversaries and protect our warfighters."

Block 2 is the latest in an evolutionary succession of improvement "blocks" the Navy is pursuing for its shipboard electronic warfare system, which will incrementally add new defensive technologies and functional capabilities. In 2013, Lockheed Martin was awarded 10 systems as part of low-rate initial production, which the company is now in the process of delivering to the fleet. In July, the Navy installed Lockheed Martin's SEWIP Block 2 system on USS Bainbridge (DDG-96) for operational testing.

Work on the SEWIP program will be performed at the company's Syracuse, New York, facility.