a
Naval Industry News - France
Exclusive: DCNS will unveil the SMX OCEAN at Euronaval 2014: A Conventional (SSK) Barracuda
Navy Recognition learned that DCNS will introduce a new submarine concept at Euronaval 2014 which be held from October 27th to 31st at Paris Le Bourget in France. The SMX OCEAN is based on a Barracuda hull, the next generation SSN of the French Navy, fitted with a conventional propulsion system (SSK) with AIP technology.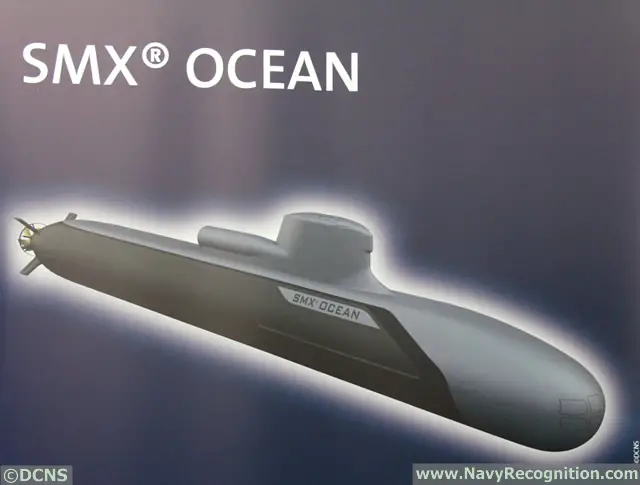 The SMX OCEAN concept to be unveiled at Euronaval 2014. Picture: DCNS

The focus of DCNS engineers in developing this concept was put on endurance and high sustained speed. We learned that the 4,700 tons SSK was designed for an endurance of 14,000 nautical miles (3 months autonomy) and a continuous transit speed of 14 knots for 1 week thanks to its Air Independent Propulsion (AIP) system fitted with two fuel cells. The original nuclear propulsion system of the Barracuda design was also replaced with six diesel engines and three sets of Li Ion batteries.

Two thruster pods are deployable at the bottom of the hull to allow the submarine to maneuver while the main screw is not in action (full stop). The X rudder design is the same as on the Barracuda and allows increased maneuverability.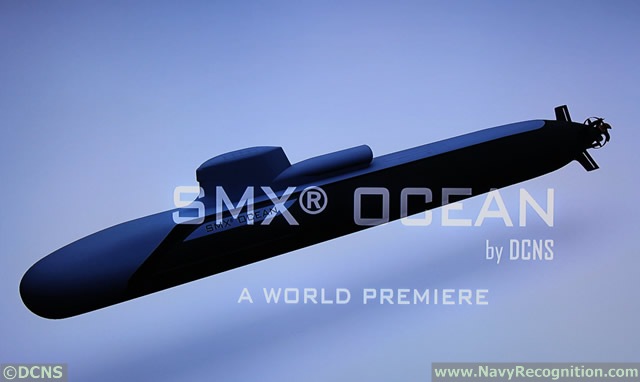 The SMX OCEAN concept is fitted with an impressive load of up to 34 weapons for action in the four domains: anti-air, anti-surface, anti-submarine & action against land targets.

The SMX OCEAN SSK is fitted with one large modular VLS tube that may launch up to six MdCN vertically (much like the Virginia payload module developed by GDEB for the US Navy's Virginia class of SSN). The submarine may also deploy F21 heavy torpedoes, SM39 Block 2 anti-ship missiles and a submarine launched version of the Mica missile (
A3SM Underwater Vehicle Version
) for self protection against air threats.
Finally a DCNS representative told
Navy Recognition
that the SMX OCEAN may deploy and recover a new UUV DCNS is working on, as well as deploy a UAV acting as remote sensor for intelligence gathering.
Link to SMX OCEAN video interview