a
Naval Forces News - USA
U.S. Navy outfitting MH-60R "Romeo" Seahawks with digital rocket launchers for APKWS
After integrating "smart" rocket launchers on MH-60S helicopters last year, the U.S. Navy is now equipping the MH-60R with the same modernized capability. The Navy delivered the Digital Rocket Launchers (DRLs) on March 25 as part of an Early Operational Capability (EOC). A Rapid Deployment Capability Team, comprised of employees from the H-60 Multi-Mission Helicopters (PMA-299) and the Direct Time and Sensitive Strike Weapons (PMA-242) program offices, was challenged to complete the project within 12 months after the MH-60S EOC.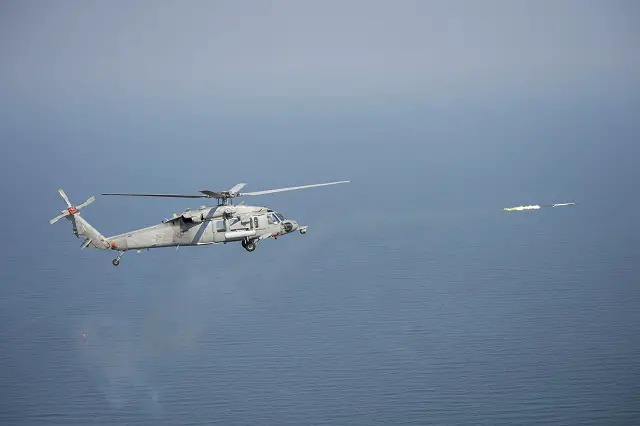 An MH-60S Seahawk helicopter fires the Advanced Precision Kill Weapons System (APKWS) from a modernized, digital rocket launcher (DRL) during a test event in fall 2013. The Direct Time and Sensitive Strike Weapons program (PMA-242) delivered DRL to Helicopter Sea Combat Squadron (HSC) 15 in March for pre-deployment training in preparation for deployment this summer. (U.S. Navy photo)
"We reached EOC on our threshold aircraft, the MH-60S, last year, and this year we're on time again for our objective platform, the MH-60R," said Capt. Craig Grubb, program manager for PMA-299. "Ultimately, the capability was provided on schedule and under budget."

Specifically, these rocket launchers will better enable the warfighter deal with threats posed by fast attack craft (FAC)/fast inshore attack craft (FIAC).

"The DRL enables the MH-60R to carry the Advanced Precision Kill Weapon System," said D'Ann Morris, MH-60 Weapons integrated product team co-lead for PMA-299. "This allows for a greater number of precision guided munitions to be used against the threat during a single attack. So not only do we reduce the number of attacks needed to accomplish a given mission, but we decrease operational cost, increase warfighting effectiveness, and enhance crew safety."

The success of the delivery was largely due to the coordination between the two programs. Working together they were able to overcome technical challenges to ensure timely integration on the aircraft.

"The power of NAVAIR is our people," said Capt. Al Mousseau, program manager for PMA-242. "We've received very positive feedback from the fleet thus far. The product works, and it's on time, thanks to the effort of our teams — that's a success."

Helicopter Maritime Strike Squadron (HSM) 71, onboard the USS John C. Stennis (CVN 74) will be the first MH-60R squadron to deploy with the DRL, with a plan to outfit all squadrons flying that variant by the end of fiscal 2018.

The DRL is currently deployed on MH-60S aircraft with Helicopter Sea Combat Squadron (HSC) 15.