a
Naval Forces News - Norway
Raytheon and Kongsberg Announce Teaming Agreement on Naval Strike Missile
Raytheon Company and Kongsberg have formed a teaming agreement for the
NSM (Kongsberg's Naval Strike Missile) anti-ship missile
. The pact represents a second step in the companies' efforts to offer world-class Offensive Anti-Surface Warfare (OASuW) solutions to the many governments interested in this warfare mission. Raytheon and Kongsberg formed a similar agreement last year to develop the Joint Strike Missile, the air-launched version of the NSM.
(Video: Royal Norwegian Navy)
NSM, in operation today, provides superior strike capability against land and sea targets with a range in excess of 200 kilometers. It is the main weapon for Norway's new frigates and corvettes, Poland's land-based coastal defense, and an NSM was successfully test-fired from the U.S. S. Coronado littoral combat ship in September 2014. NSM was also a highlight of the 2014 Rim of the Pacific exercises when it was fired from the Royal Norwegian Navy's Fridtjof Nansen frigate and scored a direct hit on a target ship.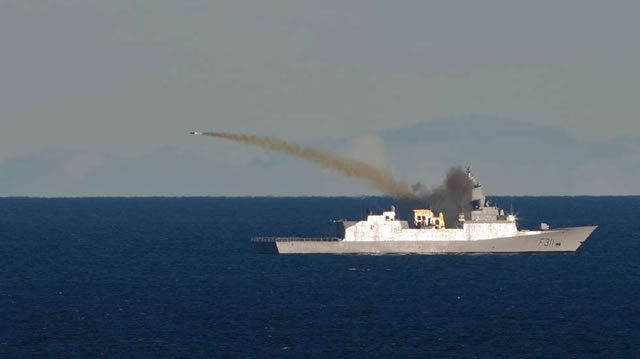 A Naval Strike Missile (NSM) anti-ship missile is launched from HNoMS Roald Amundsen
(Picture: Royal Norwegian Navy)
Raytheon and Kongsberg have a proud history of consistent partnerships to produce and improve the world's most trusted weapon systems," said Dr. Taylor W. Lawrence, Raytheon Missile Systems president. "This agreement enables us to bring a complete suite of solutions to the warfighter for the critical OASuW mission."

"We are very pleased to be extending our teaming with Raytheon to also include the proven NSM," said Harald Annestad, Kongsberg Defence Systems president. "Together we will be able to leverage Norway's investment favorably for all our allies to solve the critical OASuW mission."

About NSM
Provides excellent penetration capability against enemy air defense systems
Features an advanced Imaging Infrared Seeker with Autonomous Target Recognition
Has high survivability against modern and future air defense systems
Can fly at extremely low sea-skimming altitude, and has terrain-following flight capability