a
Naval Industry News - France
DCNS Wins Contract for Maintenance of French Navy's 6 Rubis class and 1 Suffren class Submarines
DCNS has just obtained a contract for providing through life support (TLS) until 2020 to the six nuclear attack submarines in service in the French National Navy and based in Toulon. This contract confirms DCNS leadership in through life support. The contract was recently notified by the Fleet Support Department and became effective on 01 April 2015.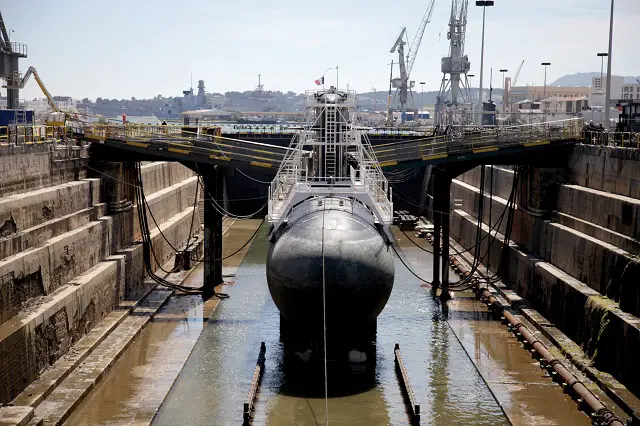 A Rubis class SSN in a dry dock in Toulon naval base, France
The contract covers the provision of through life support to the entire fleet of nuclear attack submarines, which comprises six Rubis-type ships as well as preliminary servicing for
Suffren, the First of Class of the Barracuda submarines
. The contract also includes the operation of Toulon's nuclear infrastructures, the tools as well as the simulators of the National school of submariners. Lastly, it covers the maintenance of infrastructures dedicated to the complete servicing of Rubis-type nuclear attack submarines, and the future installations in the process of adaptation for the routine servicing of the first Barracuda nuclear attack submarines that will be commissioned progressively from 2018 onwards.
Nathalie Smirnov, Director of all DCNS Services activities said: "
I'm grateful to the French Navy, which has shown its confidence in us, once again. DCNS has been able to adapt its methods to give the Navy access to the full operational capacity of its nuclear submarines while taking into account the need to preserve the economic balance of the Group
".
The industrial organization implemented to handle the servicing of its nuclear attack submarines is innovative and structure building. It seeks the achievement of three goals:
- continue to improve fleet availability while making it the common goal of a fully-dedicated team;
- optimize work in workshops by separating them from emergency operational activities;
- and the efficient development of new jobs linked to the arrival of the Barracuda class.