a
Naval Defense Industry News - USA
Fincantieri to Build The Other Two Ships Plus One Option for the US Navy's LCS Program
FINCANTIERI in partnership with Lockheed Martin Corporation, announces that its subsidiary Marinette Marine Corporation (MMC) has signed a contract modification for one fully funded Littoral Combat Ship (LCS 21) along with advanced procurement funding for another ship (LCS 23) for the US Navy's Littoral Combat Ship (LCS) program. Furthermore the contract modification also includes a priced option for one additional ship, LCS 25, to be funded in 2016. The total value of the award for Fincantieri is approximately USD 232 million.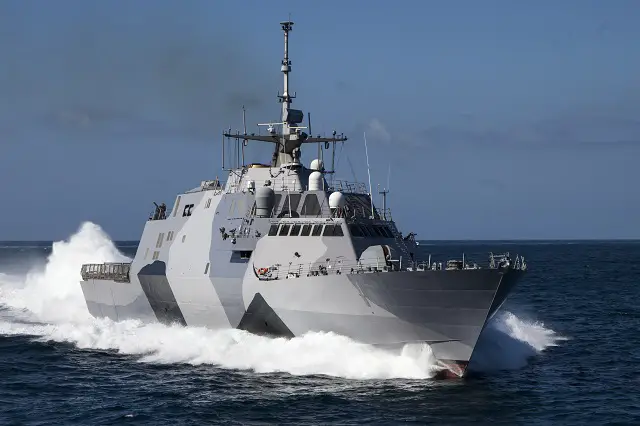 LCS 1, USS Freedom during high speed trials. Picture: Lockheed Martin
The US Congress has approved total funding for LCS 21 and, for LCS 23, has approved funding for advanced procurement that allows the cost and schedule of the final block buy option to be maintained, with total funding for this latter vessel anticipated by 31 December 2015.
These ships are the last 2 units of the 10 Freedom class vessels within the LCS program, awarded in 2010 to MMC through Fincantieri's partnership with the US-based defense contractor, Lockheed Martin Corporation.

The other 8 vessels are currently under construction at MMC's shipyard. "Milwaukee" (LCS 5) was launched in 2013, and is planned to be delivered to the US Navy in the summer of 2015, and "Detroit" (LCS 7) was launched in 2014. "Little Rock" (LCS 9) and "Sioux City" (LCS 11) are under construction, with the LCS 9 launch planned for this summer. The keel of "Wichita" (LCS 13) was laid in February 2015, while "Billings" (LCS 15), "Indianapolis" (LCS 17) and the yet to be named LCS 19 are all three in the early stages of construction.

The LCS program is one of the US Navy's main shipbuilding programs and relates to a new generation of mid-sized multirole vessels, designed for surveillance activities and coastal defense for deep water operations as well as capabilities for addressing asymmetrical threats such as mines, silent diesel submarines and fast surface ships.