a
Naval Forces News - USA
Raytheon's newest JSOW C-1 variant enters operational testing
Raytheon Company and the U.S. Navy successfully completed the final free flight in the integrated testing phase for the Joint Standoff Weapon C-1. During the development test, JSOW C-1 demonstrated its effectiveness against moving maritime targets, a crucial capability against current and future surface warfare threats. The weapon is on track to start operational testing (OT) this spring and is slated for delivery to the fleet in 2016 after the successful completion of OT.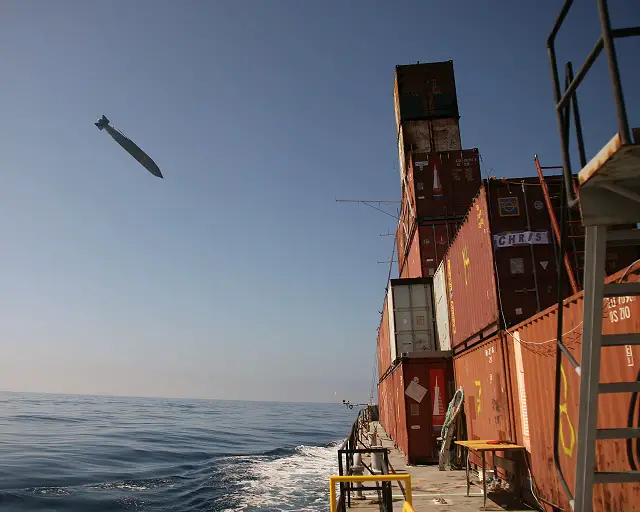 A Joint Standoff Weapon (JSOW) C-1 in flight off the coast of California in 2011. A JSOW C-1, similar to the one pictured, completed it last free-flight test as part of integrated test and evaluation in January 2015. (U.S. Navy photo)
"As we pivot to the Pacific, our capability to employ networked precision strike across our kill chains and engage in offensive anti-surface warfare is key to maintaining our strategic dominance in that theater," said Capt. Jaime Engdahl, the Navy's Precision Strike Weapons (PMA-201) program manager at Patuxent River. "I am proud of our Navy and Raytheon team's commitment to providing these advanced capabilities to the warfighter."

During the test, the aircrew executed a pre-launch handoff between two F/A-18E/F aircraft followed by the weapon's release at a distance of 35 nautical miles to the target. The two Super Hornets again transferred control of the weapon, then sent a post-launch retargeting command to reroute the JSOW C-1 from the initial target ship to a higher priority target.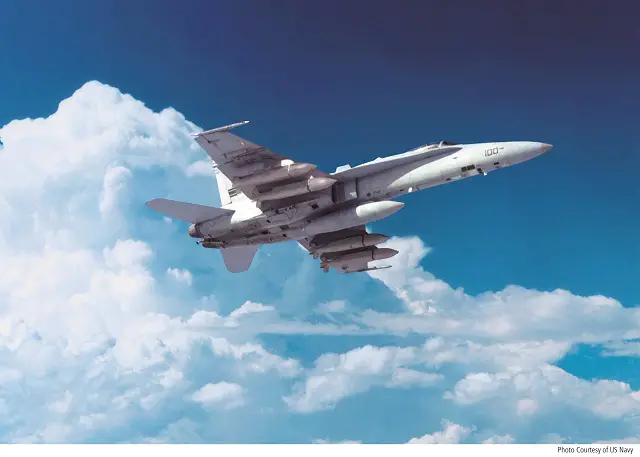 US Navy F-18 with JSOW (Picture: Raytheon)
While en route to the target ship, the JSOW C-1 provided real time weapon in-flight track and bomb hit indication status messages back to the controlling aircraft via the link-16 network. The multiple communication exchanges between the aircraft and the weapon were seamless and culminated in a successful engagement of a small maneuvering ship target.

"JSOW C-1 will be the U.S. Navy's first air-launched, net enabled weapon to provide warfighters with the vital capability to engage both stationary land-based and maneuvering sea-based targets," said Celeste Mohr, Raytheon's JSOW program director. "The affordable JSOW is critical to countering today's advanced, emerging threats."

JSOW C-1 is designed to provide fleet forces with robust and flexible battlefield effects against high value targets at launch ranges of up to 70 nautical miles from both fourth and fifth generation fighters. F-35A/C integration is currently funded for JSOW C-1, with external integration on the F-35B scheduled in Block 4.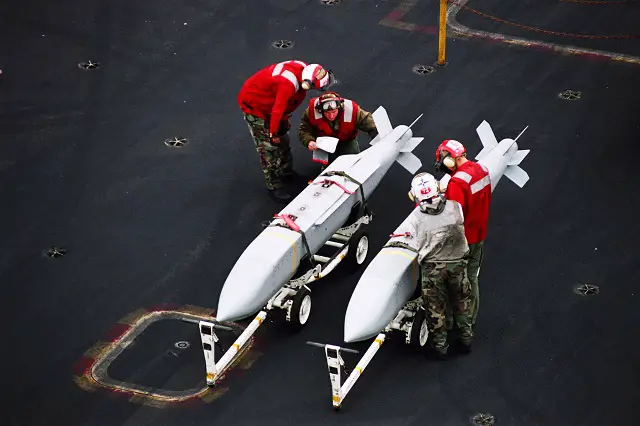 Aviation Ordnancemen assigned to G-1 Division inspect Joint Stand Off Weapons (JSOW) aboard USS Abraham Lincoln (CVN 72) before transferring them to waiting aircraft. Picture: US Navy
About JSOW
JSOW is a family of combat proven, low-cost air-to-ground weapons that employ an integrated GPS-inertial navigation system, with highly capable guidance algorithms; and is the only U.S. standoff weapon in production to fit internally in the Joint Strike Fighter. More than 5,000 JSOWs have been produced since 1997, with more than 400 employed in combat. JSOW C prosecutes stationary land targets, and uses an imaging infrared seeker for increased accuracy in the terminal phase. The JSOW C-1 variant adds the two-way Strike Common Weapon Datalink enabling additional target sets with critical moving maritime target capability.