a
Naval Defense Industry News - France, USA
US Coast Guard chooses Sagem's BlueNaute navigation system to modernize its medium cutters

Following an international call for tenders, the US Coast Guard has chosen Sagem (Safran) to contribute to the modernization of the navigation systems on its Reliance class medium endurance cutters (WMEC). According to the terms of this contract, the 14 Reliance class vessels will be fitted with Sagem's BlueNaute attitude and heading reference system.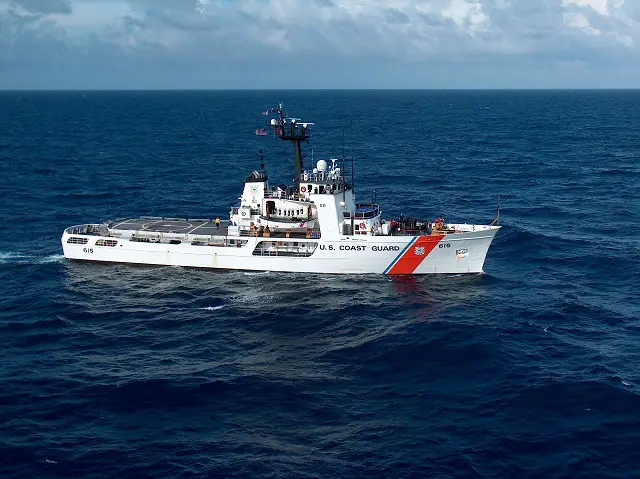 The US Coast Guard's Reliance class medium-endurance cutters (WMEC) have a displacement of 1,145 tons at full load and are 64 meters long (210'). Offering an endurance of six to seven weeks, they are assigned to fight against illegal trafficking, anti-pollution monitoring, fishery protection and at-sea rescue missions. Picture: USCG
This latest contract further confirms the US Coast Guard's confidence in Sagem's navigation solutions, since it had already chosen the BlueNaute unit in April for ten Juniper class seagoing buoy tenders (WLB).

The new-generation BlueNaute navigation unit is based on the innovative Hemispherical Resonator Gyro (HRG) technology.

A real technological breakthrough, the HRG-based inertial core in the BlueNaute system offers a competitive advantage over previous-generation inertial technologies (mechanical or fiber-optic gyros), in terms of both total cost of ownership and performance. The HRG in the BlueNaute unit, a proprietary Sagem solution, ensures very high attitude and heading precision.

Sagem's BlueNaute unit also features outstanding reliability, with mean time between failures (MTBF) exceeding 100,000 hours. Because of the HRG, this system perfectly matches the emerging needs of maritime navigation, in line with the requirements of the International Maritime Organization and the SOLAS (Safety of Life at Sea) treaty. Its performance characteristics make it perfectly suited to maritime applications, from scientific research vessels and offshore support ships, to coast guard and maritime police forces.

The BlueNaute unit is produced by Sagem at its Montluçon plant in the Auvergne region of France.