a
Naval Forces News - Egypt
Egyptian Navy FREMM Frigate Tahya Misr Reached its Homeport in Alexandria
On 31 July 2015 the FREMM
Tahya Misr
of the Egyptian navy reached her homeport in Alexandria. The Frigate left the French naval base of Brest on July 22nd.
On 23 June of this year, the FREMM Tahya Misr was transferred
from DCNS to the Egyptian navy during a ceremony attended by the Egyptian and French Defence Ministers. On 22 July, the Egyptian FREMM cast off from Brest and headed to Alexandria, its home port.
On August 6, Egypt will inaugurate a "second Suez Canal". The Tahya Misr will be the flagship during this celebration.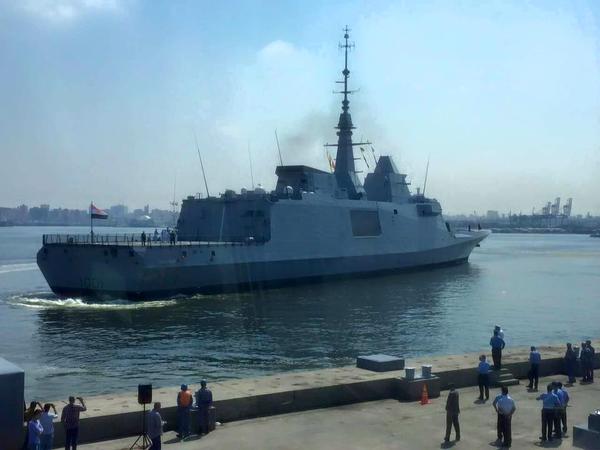 The Tahya Misr reaching its homeport in Alexandria, Egypt.

FREMM technical characteristics
Multi-mission frigates are versatile vessels able to respond to all types of air, marine, submarine or land threats. FREMM frigates are at the cutting edge of technology and are perfectly suited to ensuring that client navies are able to respond to current threats and the growing needs of maritime security.
Overall length: 142 metres
Width: 20 metres
Displacement: 6,000 tonnes
Maximum speed: 27 knots
Crew: 108 persons (helicopter detachment included)
Accommodation capacity: 145 men and women
Range: 6,000 nautical miles at 15 knots
Link to FREMM Frigate (Aquitaine class) technical datasheet