a
Naval Forces News - France
French Navy Rafale M Conducted ISR Flights Above Libya From Charles de Gaulle CVN
French Navy (Marine Nationale) Rafale M multi-role fighters conducted some Intelligence, Surveillance, Reconnaissance (ISR) flight above Libya from aircraft carrier Charles de Gaulle on November 20th and 21st. The information comes from the French president's office as part of president Hollande's visit onboard the French Navy aircraft carrier today.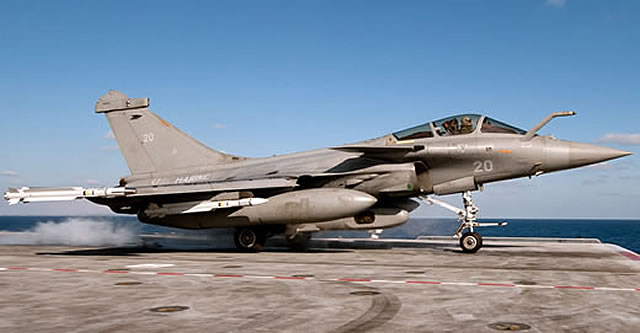 A Rafale M is launched with Thales AREO / RECO NG pod. Picture: French Navy

According to the press dossier, two ISR missions above Sirte and Tobruk, two coastal towns, were conducted. UN experts believe that there are nearly 3,000 Islamic State (IS) fighters in Libya. They are receiving support from IS strongholds in Syria and Iraq on a regular basis. The town of Sirte is said to be fully controlled by IS. The Italian Government and French defense minister have repeatedly voiced their concerns about a growing IS presence so close (300 Km away) to Europe's coastline.

The Rafale M were very likely using Thales' AREOS / RECO NG reconnaissance pod for these ISR missions. According to Thales, the pod is combat-proven with the French Air Force and Navy on board the Rafale F3. The system is fully compliant with NATO standards for integration into large-scale C4ISR systems and coalition operations.

AREOS (Airborne Recce Observation System) is a stand-off reconnaissance system designed for tactical and strategic missions. It provides a unique day/night imagery intelligence (IMINT) capability for detection, reconnaissance and identification at stand-off ranges, as well as very low altitudes and high speeds, under any weather conditions.

Composed of an airborne pod and a ground/shipboard station, AREOS combines state-of-the-art imaging technologies with high-performance data-links. These advanced functions save precious time in the sensor-to-shooter loop to quickly meet evolving mission demands, including the new requirements of peace-keeping operations.