a
Naval Industry News - USA
First Ship to Shore Connector (SSC) Hull Turned Over at Textron Facility in Louisiana
The U.S. Navy's new Ship to Shore Connector program reached a production milestone when the first hull, LCAC 100, was turned over during a 7 1/2 hour evolution at Textron Systems Marine & Land Systems Nov. 5. The Ship to Shore Connector is the U.S. Navy's newest landing craft. The craft's hull is initially constructed upside down for ease of welding and construction, and then 'flipped' to complete its assembly.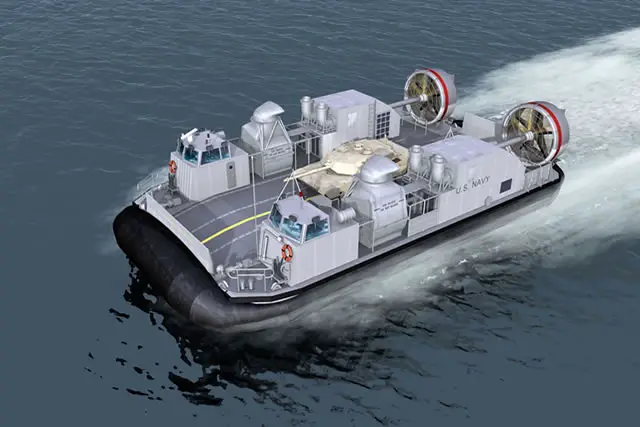 The SSC is an evolutionary replacement for the current Landing Craft, Air Cushioned (LCAC) vehicle, and benefits from more than 20 years of lessons learned from LCAC operations and maintenance.
(Picture: Textron)
Two craft are currently under construction at Textron as part of a nine-hull contract. The Ship to Shore Connectors will be used primarily to transport weapon systems, equipment, cargo and personnel through varied environmental conditions from amphibious ships to the beach.

"This significant production event marks the buoyancy box's transition from the Hull Assembly Line to the first Craft Assembly Station," said Mr. Tom Rivers, Program Manager from the Amphibious Warfare Program Office in PEO Ships. "It is a major transition point as the first craft now enters the above deck module integration phase of production."
(Video: Textron)
To turn the hull over, LCAC 100's 40-ton hull was attached to a turnover fixture. Two winches assisted in maneuvering the craft while the gantry crane pulled the hull up, and then slowly lowered it back down, right-side up. In completing this phase of construction, LCAC 100 moved from the hull assembly line to a series of craft assembly stations, where it will begin to be outfitted with the personnel and equipment module, command module, and the engine module. At subsequent stations, testing will begin on the various craft components as well as integration testing.

The Ship to Shore Connector is capable of carrying a 74-ton payload at speeds of more than 35 knots. With an enclosed personnel transport module loaded, it can carry up to 145 combat-equipped Marines or 108 casualty personnel. It measures 90 feet bow to stern, and 40 feet port to starboard.

Construction of LCAC 100 began Nov. 17, 2014. Delivery is planned for 2017. The Ship to Shore Connector has a service life of 30 years.