a
Naval Defense Industry News - Australia
Royal Australian Navy Commissioned its Second Canberra class LHD HMAS Adelaide
HMAS Adelaide, the second of two Landing Helicopter Docks (LHDs) built for the Royal Australian Navy, was commissioned into the Fleet today, alongside Garden Island, Sydney.

The Governor-General, His Excellency General the Honourable Sir Peter Cosgrove, together with the Minister for Defence, Senator the Honourable Marise Payne, and Chief of Navy, Vice Admiral Tim Barrett, attended the traditional ceremony held on Adelaide's aircraft hangar deck.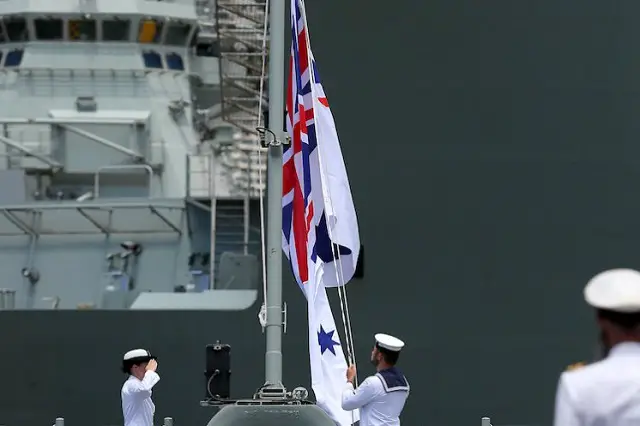 Members of the ship's company of HMAS Adelaide raise the Australian White Ensign up the ship's mast for the first time, during the Landing Helicopter Dock's Commisioning ceremony. Picture: RAN

Around 1,000 guests made up of family, industry and government representatives from Australia and Spain watched the proud Commissioning crew of Navy, Army and Air Force members march onboard and saw the Australian White Ensign being raised for the first time, signifying Adelaide's entry into naval service.

Commanding Officer of HMAS Adelaide, Captain Paul Mandziy, said it was a historic day.
"This is a proud and momentous occasion that symbolises the culmination of the amount of time, support and hard work that has gone into realising this capability," Captain Mandziy said. "As the second of class, lessons learnt from HMAS Canberra, our sister ship, has sped up our introduction into service, but a lot of effort and energy was still required from my ship's company to get us prepared for today," Captain Mandziy said. "Our work doesn't stop with commissioning. In the New Year we will conduct further trials at sea before commencing our work-up cycle."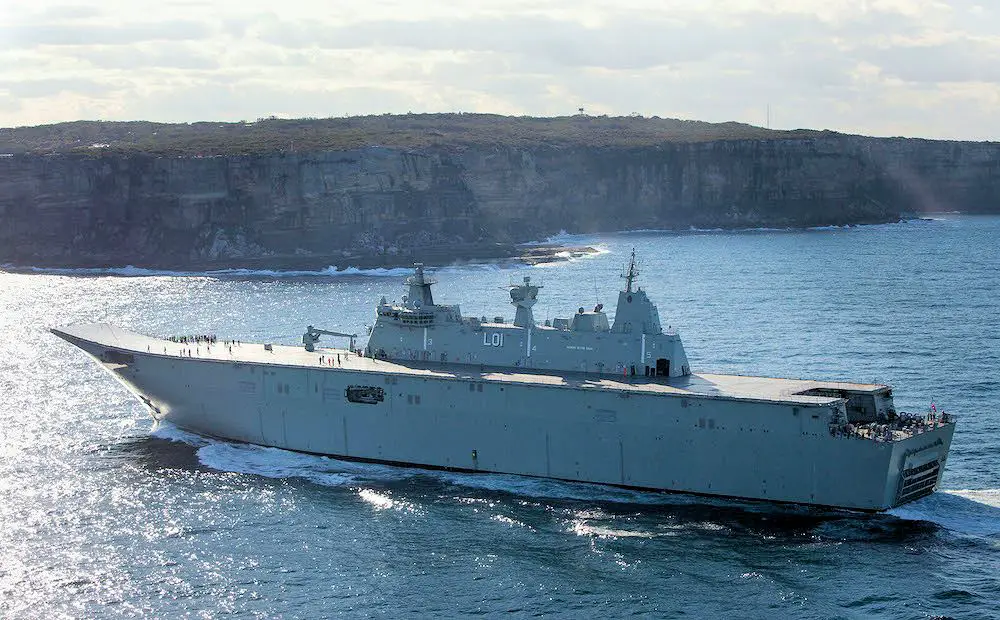 HMAS Adelaide. Picture: RAN

The capable air-land-sea amphibious asset joins her sister ship HMAS Canberra in service and marks the transformation of Navy capability. The LHDs are the next generation of Navy ships and are the first ships in a major fleet expansion.

Over the coming decades, the Australian Navy will undergo its most significant period of recapitalisation since World War II, with new submarines, frigates, offshore patrol vessels and other specialist vessels. In 2016, the first of three Hobart Class Destroyers will also join the fleet.

The 230 metre long LHDs are the largest ships ever built for the Navy. The 27,000 tonne amphibious assault ships are designed with the shallowest possible draft to manoeuvre in littoral waters and ports and can deploy an embarked force of over 1,000 personnel and their equipment, landing ashore via landing craft or helicopters. In addition to two operating theatres, the LHDs have an eight bed Critical Care Unit, resuscitation, and a variety of wards, pathology, radiology, x-ray, pharmacy and dental facilities.