a
Naval Forces News - Russia
Russian Navy First Project 23560 "Leader Class" Destroyer Will Be Named Yevgeny Primakov
According to Russian daily newspaper Kommersant, President Vladimir Putin signed a decree to perpetuate the memory of Yevgeny Primakov, according to which the first ship of the future Project 23560 "Leader Class" destroyer under development for the Russian Navy will be named after the academician.

According to the document published by Vladimir Putin: "taking into account the contribution of Primakov in the formation of Russian statehood and economic reforms, it recommended that the government consider installing a memorial plaque on the house where he lived, and requested the establishment of a scholarship. One vessel built for the Russian Navy will be named after him."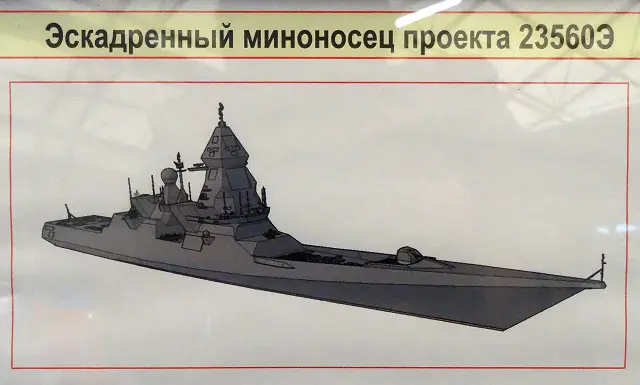 Image showing the notional design of Project 23560E "Leader Class" Destroyer as of mid-2015.
Twelve ships of the 10,000t "Leader class" are planned to enter service from 2023-25, split between the Northern and Pacific Fleets. They will all be nuclear powered. They will be fitted with the ABM-capable S-500 SAM and Kalibr (SS-N-27) cruise missile. Image: forums.airbase.ru

Yevgeny Maksimovich Primakov was a Russian politician and diplomat who served as Prime Minister of Russia from 1998 to 1999. During his long career, he also served as Foreign Minister, Speaker of the Supreme Soviet of the Soviet Union, and chief of the intelligence service. Primakov was an academician and a member of the Presidium of the Russian Academy of Sciences.
The general design of the Project 23560 "Leader class" Destroyer was unveiled last summer at the "Army 2015" defense exhibiton. Its performance and detailed characteristics have not been disclosed yet. It has been disclosed however that the future destroyer will be fitted with about 60 anti-ship cruise missiles, 128 surface-to-air missile. All Missiles will be placed in vertical launchers. In addition, the ship can accomodate two multipurpose helicopters. The displacement will be about 17500 tons, length about 200 meters, width about 20 meters. Ships of this type will be able to reach speeds up to 30 knots and an overal endurance of up to 90 days. It was
announced in may
that class will be fully nuclear-powered.
In the summer, Russian media "RIA Novosti" referring to the director of the department of state defense orders at OCK (United Shipbuilding Corporation) reported that the final design of "Leader class" will be determined by the Northern Design Bureau in 2016. Keel laying is expected to take place in 2018-2019. According to the latest "Kommersant" article, these dates have not changed