a
Naval Industry News - CNIM LCAT
CNIM Released a New Video on the L-CAT High Speed Sea Connector for Amphibious Operations
French company CNIM just released a new stunning video featuring its
L-CAT
landing catamaran. L-CAT is a fast landing craft dockable adapted to modern LPD/LHD. With is patented lift platform, it is the only vessel able to accomplish amphibious operation with high payload in rough seas or shallow water, Chosen by the French Navy in 2009, L-CAT is a new generation of expeditionary transport system for military purposes, humanitarian operations, and civilian logistics support.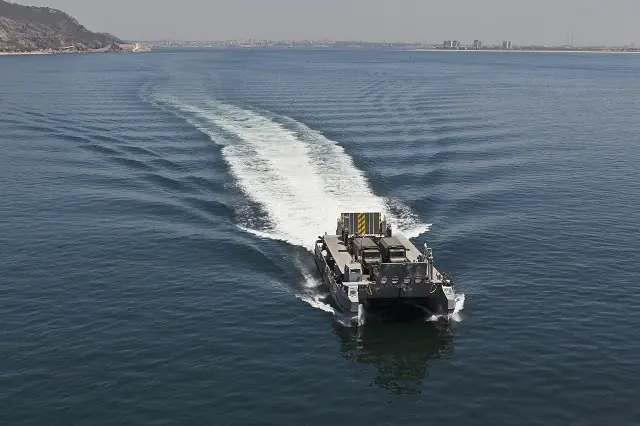 The L-CAT Sea to shore connector
The L-CAT was designed for "shore to shore", "ship to shore" and "sea to shore" missions.
Four L-CAT are currently in service within the French Navy. In 2012, it performed conclusive trials with US Navy vessels during Bold Alligator exercise.
L-CAT is intended for landing an infantry platoon, vehicles and equipment from any modern LPD/LHD. With itsfore and aft ramps, L-CAT is a full Ro-Ro vessel allowing door to door operations and loading/unloading from any existing slipway or quay.

Link to L-CAT technical datasheet