a
Naval Forces News - Russia
Russian Navy Intensifies Training of Naval Aviation Pilots and Aircraft Carrier Commanders
In 2015, the Russian Navy has intensified the training of aircraft carrier commanders and naval aviation pilots, Igor Kozhin, the Chief of the Naval Aviation has reported. "In 2015, the Navy has launched dedicated training programs for aircraft carrier commanders and executive officers. The program gives more time to drilling the deck-based aircraft control in performance of duties at sea," Kozhin said during his visit to the Naval Aviation's Combat Operations and Flight Personnel Retraining Center No.859 in Yeisk, Krasnodar Territory.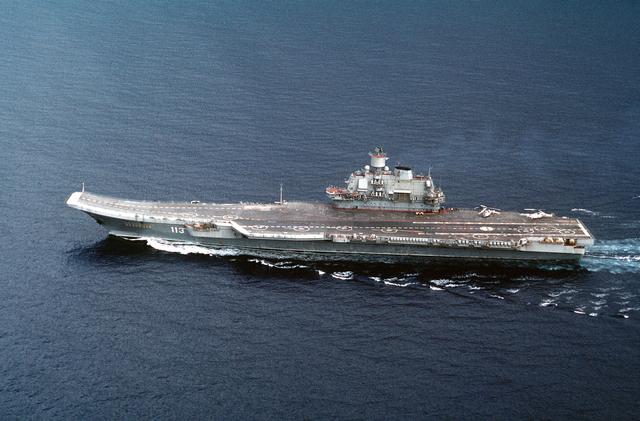 Russian Navy's sole aircraft carrier the Admiral Kuznetsov
(picture: US DoD)
He noted that the training of commanding officers for helicopter carrying warships and Project 11435 heavy aircraft carrying cruiser Admiral Kuznetsov proceeds based on the latest syllabuses.

The Yeisk Center trains pilots for Su-30SM multirole fighters, Su-33 ship-based aerial fighters, Il-38 anti-submarine aircraft, Tu-142 long-range antisubmarine aircraft, Ka-27 antisubmarine helicopters, Ka-31 early warning helicopters, Ka-29 assault transport helicopters, and Mi-8 transport helicopters. In addition, the Center must train pilots for MiG-29K/KUB multirole fighters going into service with the Russian Naval Aviation. The accepted aircraft are designed for the Northern Fleet aviation, essentially expanding the diversity of its combat missions and enhancing the efficiency of their performance, Kozhin noted.

The MiG-29K/KUB ship-based multirole fighters /NATO reporting name Fulcrum-D/ are designed for protecting ship formations from the air and striking at land-based and waterborne targets by a variety of munitions, including high precision types. The aircraft has enlarged fuel tanks and an in-flight refueling system. The MiG-29K/KUB can refuel in midair other flying vehicles by using the PAZ-1MK refueling systems. The aircraft are powered by two RD-33MK engines developing 9,000 kg(f) at take-off. The MiG-29K/KUB is fitted with Zhuk-M onboard radar with a slot antenna array. The maximum speed is 2,200 km/h, the ferry range without external fuel tanks 2,000 km.

© Copyright 2015 TASS. All rights reserved. This material may not be published, broadcast, rewritten or redistributed.