a
Naval Industry News - Australia
Navantia Selected to Provide Management Services to Australia's AWD Program

Since 2007, Navantia has been working in three important programs for the ADF, namely the Air Warfare Destroyers (AWDs), Landing Helicopter Docks (LHDs), and the LHD Landing Craft (LLC), under different contractual schemes to deliver to the best of its ability. ASC has signed a contract with Navantia whereby Navantia will provide the Shipbuilding Management Services (SMS) for the AWD Program.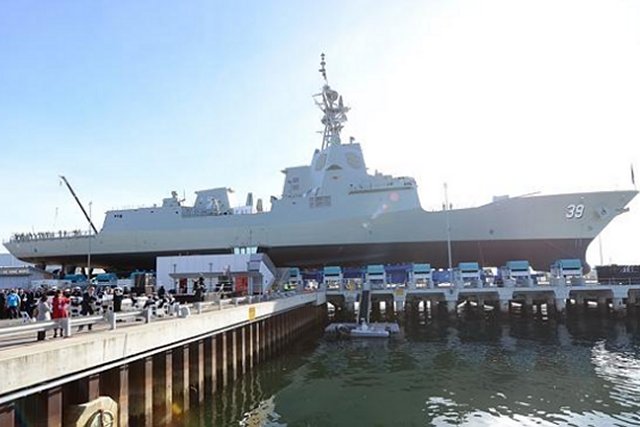 The first Australian Navy Hobart Class Air Warfare Destroyer was launched on May 23 (Picture: Tom Huntley)
This contract is part of the AWD Reform Strategy commenced by the Government in 2014. Navantia will bring it significant experience in AWDs to support ASC in building the AWDs. Navantia is fully committed in delivering this key capability to the Royal Australian Navy, as it has already done with the two LHDs, HMAS CANBERRA and HMAS ADELAIDE, this last unit being commissioned into the RAN on the 4th of December.

Navantia has a significant capability in Australia which jointly with the company's Technical Operation Centre, also located in Adelaide, will be a valuable asset for future shipbuilding activities in Australia, providing the required expertise to face the future projects. Navantia is fully committed to Australia and will contribute to naval projects as far as possible within its proven capacity and ability to supply. Navantia looks forward to working with the Commonwealth and industry even more closely than before, to achieving the program goals that we totally share.

The AWDs are being built for Australia's specific defence needs and will provide a significant increase in Australia's defence capabilities. The AWDs will provide greater protection for ADF personnel by providing air defence for accompanying ships as well as land forces and infrastructure on nearby coastal areas. The AWDs will also provide self-protection against attacking missiles and aircraft.

The Aegis Weapon System incorporating the state-of-the-art phased array radar, AN/ SPY 1D(V), in combination with the SM-2 missile, will provide an advanced air defence system capable of engaging enemy aircraft and missiles at ranges in excess of 150 kilometres.

The AWDs will also carry a MH-60R Seahawk 'Romeo' naval combat helicopter for surveillance and response to support key warfare areas. The surface warfare function will include long range anti-ship missiles and a naval gun capable of firing extended range munitions in support of land forces. The AWDs will also be able to conduct Undersea Warfare and will be equipped with modern sonar systems, decoys and surface-launched torpedoes.

Coupled with an array of close-in defensive weapons, all of these capabilities ensure the AWDs have the layered defensive and offensive resources required to win the battle against 21st century conventional and asymmetric threats.