a
Naval Industry News - Russia
Russian Navy Third Project 11356 Frigate Admiral Makarov to Start Docking Trials in February 2016

The frigate Admiral Makarov currently under construction at the Yantar Shipyard in Kaliningrad in west Russia for the Russian Navy Black Sea Fleet will start docking trials in February 2016, shipyard spokeswoman Tamara Kadanova told TASS on Tuesday.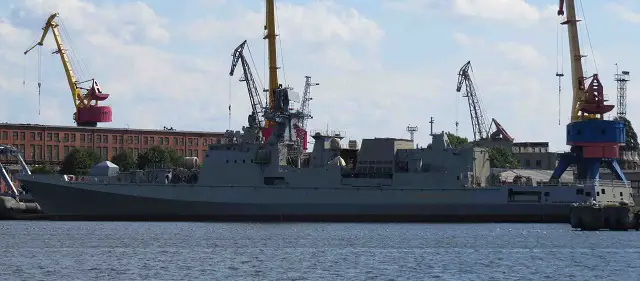 Admiral Makarov is the second in a series of six Project 11356 frigates being built for the Black Sea Fleet

"The shipyard is building the patrol ship Admiral Makarov in strict compliance with the schedule to deliver it to its customer, i.e. the Russian Defense Ministry, in the autumn of 2016, as it has been planned," Kadanova said. According to her, the ship will start docking trials in February 2016 and will be manned with a crew in March.

The Yantar Shipyard will build a family of six Project 11356 patrol vessels developed by the Severnoye Design Bureau. The frigate Admiral Makarov is the third vessel the Yantar Shipyard is building for the Black Sea Fleet. It was put afloat on September 2, 2015.

The Project 11356 frigate has a displacement of 4,000 tons, a speed of 30 knots and endurance of 30 days. Its crew totals 200. The Project 11356 frigate is armed with eight Kalibr-NK cruise missiles in vertical launchers, the Shtil-1 and Palash air defense missile and artillery systems, AK-630M rapid-firing guns, the A-190 universal artillery system, 533mm torpedo launching tubes and the RBU-6000 antisubmarine rocket launcher. The Project 11356 frigate also has a hangar and a pad for the Kamov Ka-27 (NATO reporting name: Helix-A) or Ka-31 (Helix-B) antisubmarine helicopters. The Project 11356 frigate is designed to conduct combat operations at sea within a formation or independently. The frigate's armament allows destroying the enemy's surface ships and submarines, repelling air attacks and providing fire support during amphibious assault operations.

The lead ship Admiral Grigorovich has already completed the first stage of state trials in the Baltic Sea and headed for the Northern Fleet. The ship is expected to test its Kalibr-NK missile system at the Northern Fleet's sea ranges, as it could not conduct such trials at the Baltic Sea's limited area. The frigate Admiral Essen is completing sea tests. After that, the frigate will start undergoing state trials. and submarines, repel air attacks and provide fire support for amphibious landing.

© Copyright 2015 TASS. All rights reserved. This material may not be published, broadcast, rewritten or redistributed.