a
Naval Industry News - Russia
Russian Navy to Receive First Ivan Gren Class Landing Ship (Project 11711) in Early 2016
The Project 11711 Ivan Gren tank landing ship will be delivered to the Russian Navy in 2016, Sergei Vlasov, director general, Nevskoye Design Bureau, told journalists on Thursday.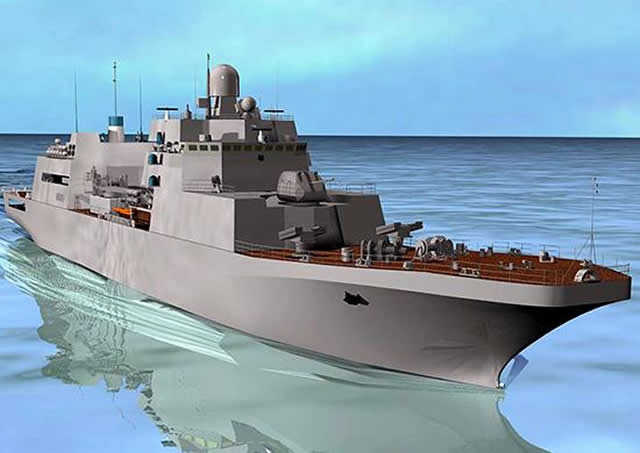 Computer rendering of Project 11711 Ivan Gren Large Amphibious Assault Ship. They have a displacement of 5,000 tonnes. These amphibious vessels can support beach landing of up to 300 marines, 40 armored personnel carriers or 13 tanks and carry the Kamov Ka-29 type helicopter on the deck. The landing ships are armed with a 76-mm naval gun, two 30-mm AK-630 antiaircraft mounts and multiple artillery rocket systems.
"We are completing the work and will deliver the Ivan Gren tank landing ship to the Navy early in 2016," Vlasov said.

The dockside trials of the advanced landing ship are reported to have begun on the premises of the Yantar Shipyard in Kaliningrad in October 2015, with a crew made up of personnel of the Baltic Fleet large unit of in-construction and in-repair ships coming at the time to operate it.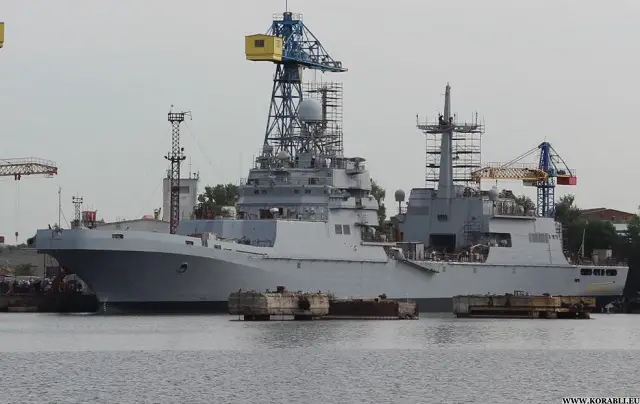 Lead Ship of Project 11711 Ivan Gren Large Amphibious Assault Ship nearing completion.
Picture: korabli.eu
The Project 11711 Ivan Gren large landing ship is designed for landing Marines on enemy-held beachheads and carrying combat and other hardware. In peacetime, it is designed for humanitarian relief operations. The ro-ro ship provides unimpeded stern-to-bow passage of armored and wheeled vehicles on the tank deck. The Ivan Gren has a twin-island superstructure, with the stern island housing a hangar designed for a helicopter. Owing to a sliding device, the hangar's length can be increased to accommodate two helicopters, if need be. The hull and superstructure are made of steel. The ship is designed to carry 13 tanks or 36 armored personnel vehicles and 300-380 Marines as well. It can haul 1,500 tons of cargo instead of Marines. The Ivan Gren can carry one or two Kamov Ka-29 (Helix) assault transport helicopters. A Ka-52K (Hokum-B) carrierborne helicopter can be accommodated too. The ship has two 122-mm A-215 rocket launchers, two 100-mm A-190 guns and two 30-mm AK-630M antiaircraft guns and displaces a total of 5,000 tons. Its length is 120 m and beam 16.5 m. The Ivan Gren has a speed of 18 knots, an endurance of 30 days and a crew of 100.

© Copyright 2015 TASS. All rights reserved. This material may not be published, broadcast, rewritten or redistributed.