a
Naval Defense Industry News - USA, India
Kineco Kaman Composites–India dispatches first lot of Mission Consoles to BAE Systems for P-8 MPA
Kineco Kaman Composites India (KKCI) Private Limited, a Joint Venture Company between Kineco Group of Goa and Kaman Aerospace Group USA, has made its first commercial dispatch of Composite Mission Consoles to BAE Systems, Inc. for the
P-8 Poseidon maritime patrol aircraft
(image shown below).

Picture: Kaman

KKCI had earlier completed First Article Inspection phase of the composite console paving the way for this serial production. This is a historic event for KKCI and marks the beginning of its long term engagement with global aerospace OEM's like BAE Systems.

BAE Systems initiated this sourcing activity as part of its commitment to help develop aerospace and defense industrial capabilities in India. Over the last eighteen months, the company's team has been developing KKCI's capabilities to achieve readiness for this production. KKCI is the first supplier in India developed through P-8 industrial commitments by BAE Systems.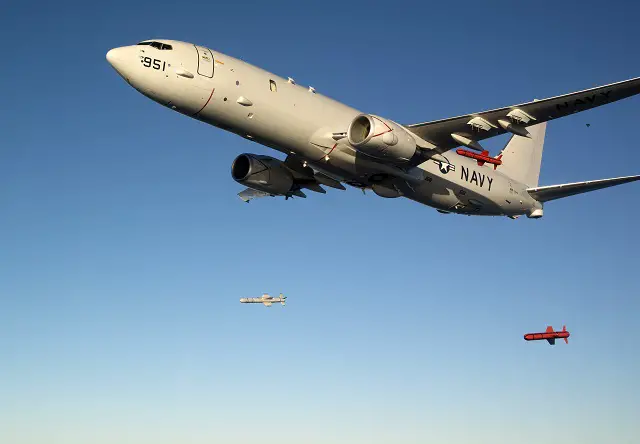 P-8A Poseidon during Harpoon release testing. Picture: US Navy

An industry team, led by The Boeing Company, is building the P-8. The aircraft, a derivative of the Next-Generation 737-800, provides advanced anti-submarine warfare, anti-surface warfare and long-range maritime reconnaissance capabilities. Boeing has delivered 23 P-8A Poseidon aircraft to the U.S. Navy and six of eight P-8I aircraft to the Indian Navy, through 2014.

BAE Systems supplies the Mission Computing and Display System for Boeing's P-8 aircraft. Each P-8 aircraft has five (5) consoles which serve as the main user interface to control and interact with sensors, communications and weapon systems on the aircraft. The consoles are a complex assembly manufactured using carbon composite and glass composite panels, with a multitude of metallic inserts.

"Kineco Kaman is proud to mark this significant milestone and make the maiden dispatch of a 'Made in India' product for a prestigious program such as the Boeing P8 Poseidon. This now paves the way for us to commence production and delivery of the consoles, which are the platforms through which missions are operated on the Boeing P8 Poseidon. Equally, we look forward to strengthening our engagement with BAE Systems on this program and look forward to expanding our engagement on other platforms and programs in support of the 'Make in India' global initiative of the Prime Minister," said Mr. Shekhar Sardessai, Chairman & Managing Director of KKCI. "BAE Systems has shown immense commitment to making our partnership a successful one."