a
Naval Forces News - Poland
Polish Navy Offshore Patrol Vessel ORP SLAZAK Christened and Launched
Our colleagues from polish website Defence 24 announce that the christening and launching ceremony for
ORP Slazak
, a new Offshore Patrol Vessel (OPV) for the Polish Navy, took place yesterday at the Dgynia Naval Shipyard. Read the full article and see the nice picture gallery
published by Defence 24.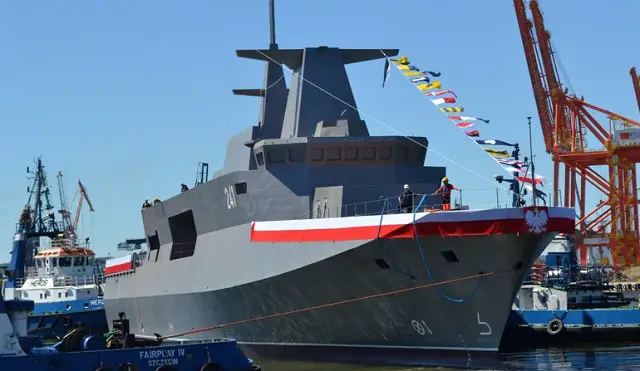 Polish Navy OPV ORP SLAZAK during the ceremony yesterday. Picture: M. Dura/Defence24.pl

ORP Slazak is expected to conduct the following missions:
» Destroying naval and aerial targets, smaller vessels and asymmetric threats;
» Patrolling and protecting sea communication routes and harbour approach paths;
» Escorting and protecting commercial vessels;
» Monitoring sea routes, as an element of international forces;
» Anti-pirate operations;
» Providing support and cooperating with Special Forces;
» Functioning as an ad hoc base for helicopters;
» Taking part in humanitarian and environment-protection operations.

Standard displacement mass of the vessel is to be as much as 1800 tonnes, total length – 95.2 m, width – 13.5 m, height to the level of the board – 9.35 m, displacement – 3.6 m. The ship is to be able to operate autonomously for a period of 30 days.

The weapon suite will consists in:
» 1x Oto Melara 76mm main gun
» 2x Oto Melara Marlin WS 30mm remote weapon stations
» 4x GROM Short range surface to air missile launchers
» 4x 12.7 mm machine guns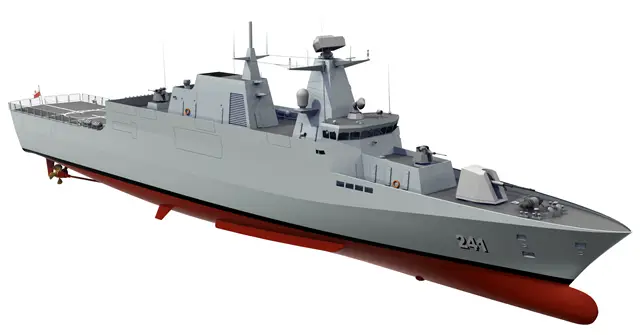 The future Polish Navy ORP SLAZAK is the successor of the GAWRON multipurpose corvette programme. Picture: Thales

It was announced in March 2014 that the Polish Ministry of National Defence and Thales signed a contract for the delivery of the integrated combat system and related acceptance activities on board the ORP SLAZAK Patrol Vessel. The system will be fully operational in 2016. The vessel is the successor of the GAWRON multipurpose corvette programme.
In the scope of this contract, Thales will deliver main combat system components such as the TACTICOS Combat Management System,
SMART-S Mk2 surveillance radar
, STING-EO Mk2 (currently named the STIR 1.2 EO Mk2) fire control radar, MIRADOR electro-optical observation and fire control system and LINK 11/16 tactical data link system. Thales is also responsible for the combat system integration related to other systems to be installed on board the vessel,such as weapons, communication and navigation systems,as well as several third party-supplied sensors.