a
Naval Defense Industry News - Sweden
Saab Started the Mid-Life Upgrade of Swedish Navy Gotland Class Submarines
Submarines are strategic defence assets and the Gotland-class is designed to be in service for some three decades. Over that long period, their 1500 tonne, 60 metre long hulls are subject to the rigours of some of the toughest nautical environments - including the ice cold of the Baltic Sea. In addition to the waves of the sea, they are subject to the relentless tide of technological development – one which they have to stay at the forefront of, if they are to remain an effective part of a nation's defence.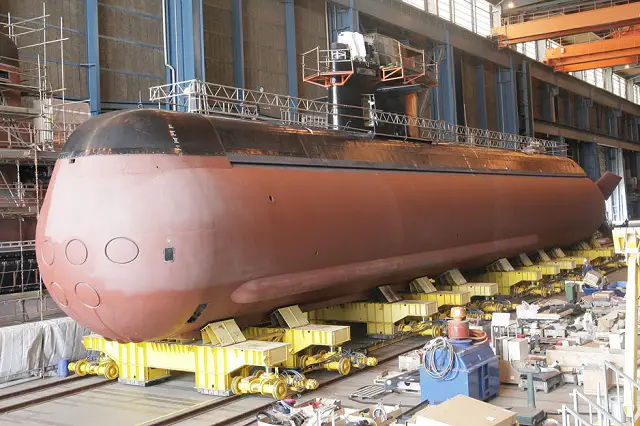 HMS Gotland on its way into the shipyard. Foto: Glenn Pettersson, Saab Kockums
"Steel hulls can be several decades old and still go strong. Actually, it is usually the onboard systems and technology that start to limit a submarine's operability," explains Saab's Anders Otterlund, Director of Program Gotland.
To keep them cutting-edge, Sweden's Gotland-class submarines HMS Uppland and HMS Gotland receive regular overhauls and are now set for a midlife upgrade after 15 years of service.
"A midlife upgrade takes around two years to complete. Many important systems, such as machinery in the Stirling Air Independent engine, sonars and management system will be fully replaced. Even the traditional optical periscope will be replaced with a new mast-based optronic sensor," notes Anders.
"When we change the central systems in the submarines, it will give them the capabilities to meet today's and tomorrow's demands. When we return the submarines to Sweden's authorities in 2018 and 2019, they will come out as almost new submarines, ready to take on missions around the world," concludes Anders.
Navy Recognition reported earlier this year that the Gotland class SSK would be upgraded with
Exelis' ES-3701
electronic warfare systems and
Kongsberg's SA9510S sonar
. We also revealed that Sagem would provide
new optronic masts
.