a
Naval Industry News - USA
First Female Divers Crew and Operate HII's Proteus Dual Mode Underwater Vehicle SDV
Huntington Ingalls Industries' (HII) Undersea Solutions Group (USG) subsidiary made history in June as its two female divers became the first women to crew and drive a dual-mode underwater vehicle (DMUV). Chloe Mallet, an ocean engineer, and Andrea Raff, a mechanical engineer, crewed and operated
USG's Proteus
, a submersible able to operate as a manned swimmer delivery vehicle (SDV) and as an unmanned undersea vehicle (UUV).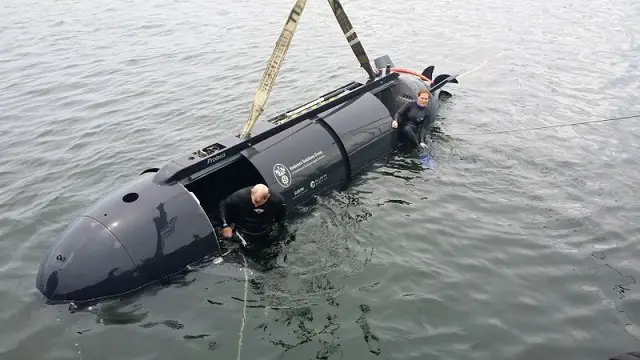 Chloe Mallet (right), an ocean engineer at HII's Undersea Solutions Group (USG) subsidiary, prepares to crew and drive the Proteus dual-mode underwater vehicle with USG Vice President Ross Lindman (left). Mallet and Andrea Raff (not pictured), a mechanical engineer at USG, are the first women to crew and drive a swimmer delivery vehicle. Photo by Joe Colamaria/HII
Mallet and Raff are certified as rescue divers. They have undergone extensive training with Proteus and assist with its maintenance. To prepare for operating the vehicle, the women trained in the company's test tank and supported pre- and post-dives with USG's more experienced pilots.

Mallet and Raff individually took Proteus out and co-piloted it in Florida's Saint Andrews Bay with USG Vice President Ross Lindman as the pilot.

"The opportunity to jump in is exciting," Mallet said. "We help with maintenance on the boat and learn as we go when it's in the maintenance bay at the port, but this was the first time ever in the water. We'll continue training as co-pilots and then pilot it with an experienced diver."

Mallet and Raff are the only two women on USG's seven-person dive team that works with Proteus. When in use in the manned mode, the vehicle is flooded with water and can submerge to depths up to 150 feet.

"I felt prepared, but it was still different than I thought it was going to be," Raff said. "It's pitch black inside, and all you can see is the computer screen and the buttons. We have testing for customers scheduled so it'll be exciting to see how Proteus operates in the future with our customers."

Proteus weighs 8,240 pounds and is designed to operate as a manned SDV or UUV. It can be used for integrating and testing payloads, transporting and installing equipment on the sea floor, inspecting undersea infrastructure, and transporting a team of combat swimmers and cargo.

Undersea Solutions Group develops and builds specialized manned and unmanned undersea vehicles for military customers around the world. Formerly The Columbia Group's Engineering Solutions Division, USG has built or converted specialized craft for a variety of purposes, including support of submersibles and submarines, special warfare, testing of mine warfare systems, torpedo countermeasures and more. The division, originally established in 1972, reports to HII's Newport News Shipbuilding division and operates in Panama City Beach, Florida.