a
Naval Forces News - UK
First 7 "Green" Merlin Mk3 Helicopters Updated to IHC3 Standard Ahead of Transfer to Royal Navy
The United Kingdom achieved the modification of the first seven AgustaWestland HC3/3A "Merlin" to the IHC3 standard. These Royal Air Force helicopters are being transferred to the Royal Navy. They will gradually replace the current Westland Sea King HC.4 "Commando" by spring 2016 in the Royal Navy.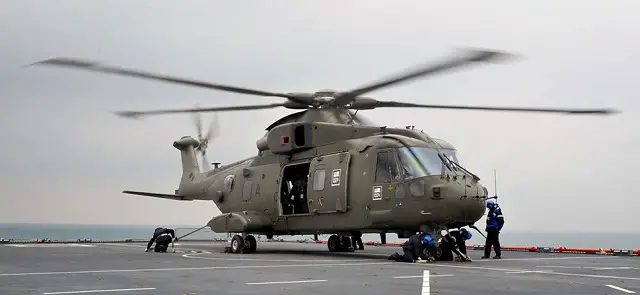 A Merlin Mk3 helicopter which was recently transfered from the RAF to the RN is seen operating at sea for the first time during trials on board RFA Lyme Bay LSD. Picture: Royal Navy
The upgrade of Merlin HC3/3A to the IHC3 intermediate standard will take the helicopters closer to the future HC4/4A standard (Mk4), which is expected to joing the fleet starting in 2017.

Carried out at the AgustaWestland factory in Yeovil, the IHC3 upgrade is part of the Merlin Life Sustainment Programme (MLSP) and includes fitting the helicopters with a folding main rotor head; a fast rope point; modified undercarriage for deck operations; and new deck mooring points. Avionics has also been revised and updated, with the addition of specific equipment for the Royal Navy.

Strengthened steel tie down points and heavier wheels have also been added, giving the current Merlin Mk3 an all up weight (AUW) of around 14.6 tonnes. The Mk 4 will have a bigger AUW of around 15.6 tonnes.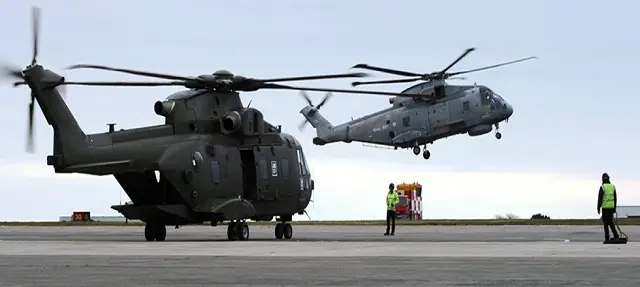 A "green" Merlin Mk3 (foreground) and a "grey" Merlin Mk2 (background). The AgustaWestland Merlin Mk2 is the anti-submarine warfare and maritime surveillance helicopter of the Royal Navy. The Mk3 variant was transfered from the Royal Air Force to the Royal Navy to take on the demanding Commando Role (from ship to shore operations). The current Merlin Mk3 fleet will undergo an upgrade package through an interim model. It will then move towards the advanced Merlin Mk4.
Picture: Royal Navy
In March this year, a"Green" Merlin Mk3 which was transferred from the Royal Air Force to the Royal Navy "Junglie" Commando Helicopter Force (CHF) to start trials at sea with Royal Fleet Auxiliary (RFA) Lyme Bay landing ship dock (LSD) (Pictures above).

The AgustaWestland AW101 is a medium-lift helicopter used in both military and civil applications. It was developed by a joint venture between Westland Helicopters in the UK and Agusta in Italy in response to national requirements for a modern naval utility helicopter. Several operators, including the armed forces of Britain, Denmark and Portugal, use the name Merlin for their AW101 aircraft.