a
Naval Defense Industry News - Russia
High-Speed Landing Craft BC-16 (Project 02510) Showcased During Army 2015 Exhibition

Russian Shipyard "Rybinsk Shipyard" (in Yaroslavl region) was showcasing its BC-16 new high-speed landing craft (project 02510) for the Russian Navy during the large defense exhibition "Army 2015" held last week near Moscow. The BC-16 shares many similar design features with the famous CB90-class fast assault craft designed by Sweden's Dockstavarvet.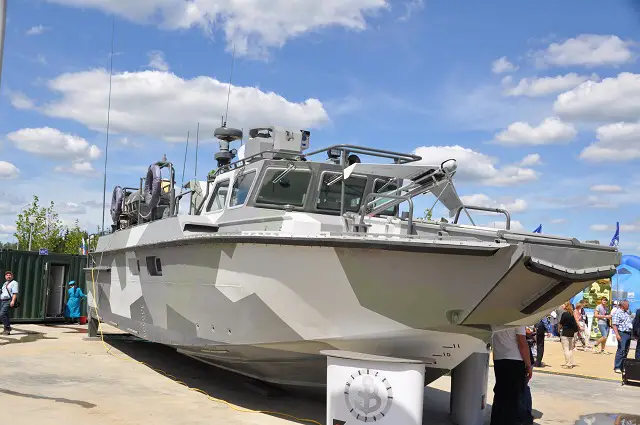 The new Russian Navy BC-16 high-speed landing craft (Project 02510) at the "Army 2015" exhibition. Note the tactical UAV ZALA 421-16EM at the bow on a catapult. Picture: bmpd

Two BC-16 have been built so far for Russian Ministry of Defense.

According to "Rybinsk Shipyard", the BC-16 is designed for operations in coastal transportation of personnel, landing on unequipped coast, fire support of landing, the fight against piracy and terrorism, medical evacuation, assistance in distress.

BC-16 craft are fitted with:
» with 4 machine guns of 7.62 mm (two on each side)
» 12.7 mm machine gun or a 40mm grenade launcher (for logging)
» can carry up to four sea mines or launchers SD.