a
Naval Defense Industry News - UK
British Company WFEL Built The Land Based Ski Jump Used For F-35B Lightning II Aircraft Tests

WFEL has played a vital role in the inaugural launch of the F-35B Lightning II, which has made aviation history after it took off from a WFEL ski jump in the US, piloted by British BAE Systems Test Pilot Pete 'Wizzer' Wilson. The land-based test was carried out above the Naval Air Station (NAS) in Patuxent River, Maryland, and marks the first time that an F-35 Lightning II has taken off from a ski jump. Ski-jump ramps provide an aircraft with an upward flight path, meaning the aircraft can take off from a shorter runway with a heavier payload.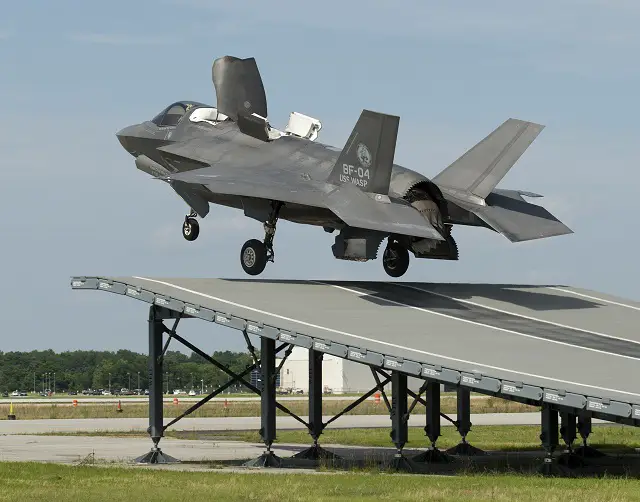 The F-35 Lightning II Pax River Integrated Test Force from Air Test and Evaluation Squadron (VX) 23 conducted the first-ever ski jump of an F-35B Lightning II short take-off/vertical-landing (STOVL) variant June 19. During flight 298, BAE test pilot Peter Wilson launched aircraft BF-04 from a land-based ski jump located aboard NAS Patuxent River. This test is the first of a series of U.K. ski jump events scheduled for 2015. Lockheed Martin photo by Andy Wolfe.

The WFEL ski jump – the first of its type to be built anywhere in the world – was designed to replicate the runway of an aircraft carrier, to enable the F-35 to be tested on land before the first shipboard ski jump launch from HMS Queen Elizabeth. The land-based testing will demonstrate the aircraft's ability to safely take-off and land, with the US-UK team continuing the first of a multi-phase set of test trials over the course of the summer.

Designed, developed and manufactured by WFEL, flight certification was achieved in no small part due to engineer Greg Roney, who worked closely with the F-35 team.

WFEL chief executive Ian Wilson said: "We have a strong heritage in applying our specialised design and manufacturing skills to high quality and technically-challenging products. We made a strategic move to apply our engineering expertise to challenges like the ski jump for customers such as the US military, who we've been working with since the 1980s.
"The F-35 is one of the most advanced military aircraft ever made and we are proud to support one of our largest customers in achieving aviation history."

Peter Wilson, the test pilot and ski jump project lead, added: "As expected, aircraft BF-04 performed well and I can't wait until we're conducting F-35 ski jumps from the deck of the Queen Elizabeth carrier. Until then, the de-risking that we're able to achieve now during phase I of our ski jump testing will equip us with valuable data we'll use to fuel our phase II efforts."

The F-35 Lightning II is a single-seat, single-engine, strike fighter that incorporates low-observable (stealth) technologies, defensive avionics, advanced sensor fusion, internal and external weapons, and an advanced prognostic maintenance capability to deliver optimum international security via integrated coalition operations.

Partner nations include the UK, Italy, the Netherlands, Turkey, Canada, Australia, Denmark and Norway, as well as three Foreign Military Sales (FMS) countries: Japan, Israel and South Korea.