a
Naval Forces News - USA
Austal Lays Keel of Manchester (LCS 14) While Jackson (LCS 6) Completes Acceptance Trials
Austal and the U.S. Navy held a keel-laying ceremony today for the future USS Manchester (LCS 14), marking the first significant milestone in its construction. This ship is the fifth
Independence
variant littoral combat ship (LCS) built at Austal under the 10-ship, $3.5 billion block buy contract awarded to Austal in 2010. The U.S. Navy also announced that future USS Jackson (LCS 6) successfully concluded acceptance trials June 26, after completing a series of graded in-port and underway demonstrations for the Navy's Board of Inspection and Survey (INSURV).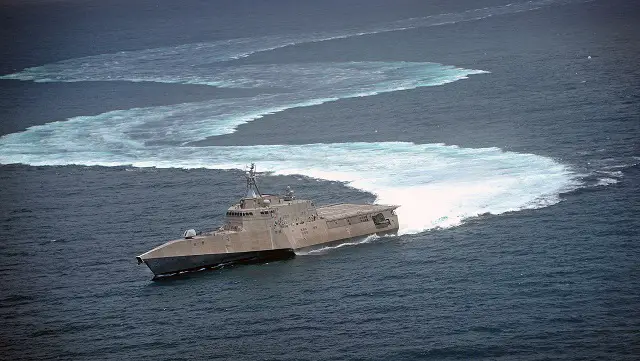 The littoral combat ship USS Independence (LCS 2) conducting full power propulsion and maneuvering tests in the Pacific Ocean off the coast of San Diego. (file U.S. Navy photo by Mass Communication Specialist 2nd Class Daniel M. Young/Released)

Keel Laying for USS Manchester (LCS 14)
"It has been said that building a high-tech Littoral Combat Ship is more akin to making a spacecraft than a traditional warship," said Senator Jeanne Shaheen (D-N.H.), sponsor of the Manchester.

Shaheen, the only woman to serve as both a U.S. senator and state governor, authenticated the keel by welding her initials onto an aluminum plate that will be placed in the keel – a beam around which the hull, or body, of a ship is built. The keel runs lengthwise down the middle of the ship serving as the basic foundation or spine of the structure, providing the major source of the hull's strength. Shaheen has been part of New Hampshire's leadership fabric by representing her state in Congress since 2009.

Due to Austal's modular approach to ship manufacturing, 36 of 37 modules used to form this 127-meter (419-foot) aluminum trimaran are already being fabricated. For Austal, keel laying marks the beginning of final assembly. Nineteen modules have been moved from Austal's Module Manufacturing Facility (MMF) and erected in the final assembly bay in their pre-launch position. The remaining 18 modules will follow over the coming months.

"With 19 modules of Manchester already erected, and the christening of Gabrielle Giffords just a few short weeks ago, it's exciting to see just how well the LCS program is maturing here," said Craig Perciavalle, president of Austal USA. "This milestone would not have been possible without the hard work and dedication of Austal's talented design and production team."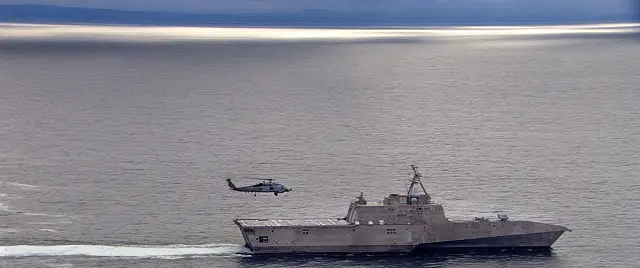 Littoral Combat Ship USS Gabriele Gifford (LCS 10) with an MH-60R landing. Picture: Austal

Jackson (LCS 6) Completes Acceptance Trials
Acceptance trials are the last significant milestone before delivery of the ship to the Navy, which is planned for later this summer.
During the five-day trial, the Navy conducted comprehensive tests intended to demonstrate the performance of the propulsion plant, ship handling and auxiliary systems. While underway, the ship successfully performed launch and recovery operations of the 11-meter rigid hull inflatable boat (RHIB), a four-hour full power run, surface and air self-defense detect-to-engage exercises, and demonstrated the ship's tremendous maneuverability performing tight turns and accomplishing speeds in excess of 40 knots.
"With each new LCS we run through the trials process, I'm reminded of the incredible and unique capability this ship gives our operators," said LCS program manager Capt. Tom Anderson. "Jackson lives up to the task and Austal USA should be proud of the hard work they undertook to get us here."
Following delivery and commissioning of the ship Dec. 5 in Gulfport, Mississippi, Jackson will be homeported in San Diego, California with sister ships USS Freedom (LCS 1), USS Independence (LCS 2), USS Fort Worth (LCS 3) and USS Coronado (LCS 4).
Milwaukee (LCS 5), Detroit (LCS 7), Little Rock (LCS 9), Sioux City (LCS 11), Wichita (LCS 13), Billings (LCS 15) and Indianapolis (LCS 17) are in various stages of construction at the Marinette Marine Corp. shipyard in Marinette, Wisconsin, while Montgomery (LCS 8), Gabrielle Giffords (LCS 10), Omaha (LCS 12), Manchester (LCS 14), Tulsa (LCS 16) and Charleston (LCS 18) are under construction at the Austal USA shipyard in Mobile, Alabama.
St Louis (LCS 19) and the yet to be named LCS 21 are under contract with Marinette Marine Corp. and in the pre-production phase. Cincinnati (LCS 20) and the yet to be named LCS 22 and LCS 24 are under contract with Austal and in the pre-production phase.
LCS is a new breed of U.S. Navy warship, capable of open-ocean operation but optimized for littoral, or coastal, missions. USS Freedom and USS Fort Worth recently demonstrated these critical capabilities as part of their operational deployments to U.S. 7th Fleet in the Asia-Pacific region.
The Navy remains committed to a 32-ship LCS program and is leveraging competition, fixed-price contracting and serial production to reduce construction duration and costs.
Link to Independence class Littoral Combat Ship technical datasheet