a
Naval Industry News - France, Mozambique
French shipyard CMN Launched the First HSI32 Interceptor for the Navy of Mozambique
Following the launch of the first Ocean Eagle 43 Trimaran for Mozambique in January, French shipyard
CMN
launched the first HSI32 Interceptor for the same customer. Three OCEAN EAGLE 43 trimaran patrol vessels and three HSI32 interceptors (and several fishing vessels) that were ordered by the African nation back in September 2013. Three more HSI32 Interceptors were subsequently ordered in January.
The first 3 HSI32 will de deliverered from December 2015 with a rate of one ship every 2 months.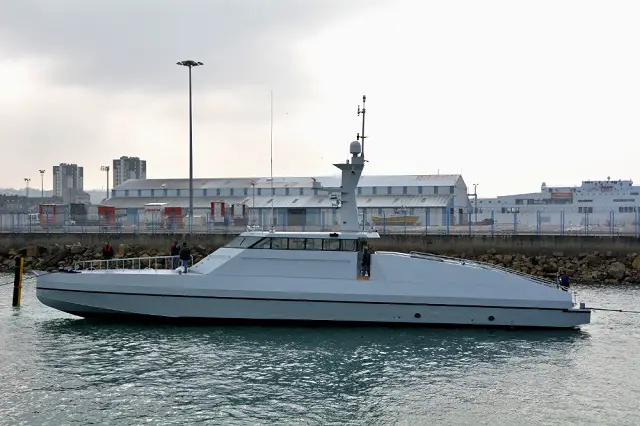 The first HSI32 Interceptor in the water at CMN shipyard in Cherbourg (Normandy). Picture: CMN
CMN HSI32 Interceptor

The HSI32 is designed to meet the needs of modern Navies and Coast Guards. The HSI32 is a fast interceptor which combines significant intelligence and surveillance capacities with high speed (45 knots) and extended patrol period of 3 days.

CMN has sought to develop a versatile interceptor, efficient and easy to use for conducting anti-piracy, anti-terrorism, or control of illicit trafficking missions.

The HSI32 has a range of 800 nautical miles (approximately) with a crew of only 12 sailors. This new advanced interceptor comes with a RHIB launching ramp at the stern and a 360° bridge.

The HSI32 is fitted with self-defense capabilities including a 20 mm remote weapon system plus two 12.7 mm machine guns with a field of 360° coverage.

In terms of electronic warfare, the HSI32 comes with advanced detection and surveillance sensors:
» C-ESM
» Electro-optical sensors
» Surveillance radar
» Navigation radar
» Satcom datalink for image, video and tactical data upload and download

All sensors are fused and integrated with the Combat Management System and the Integrated Navigation System.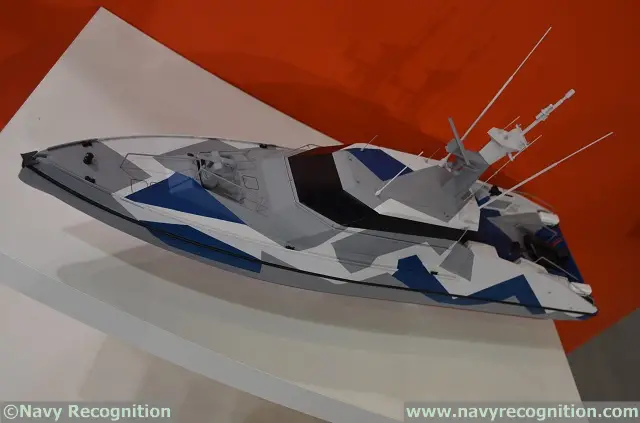 HSI32 Interceptor scale model displayed on the CMN stand during Euronaval 2014
HSI32 Missions
> Sea policing and maritime security
> Fight against piracy, trafficking, smuggling and illegal immigration
> Protection of vulnerable vessels and offshore installations and escort of convoys
> Combined operations with aircraft and coastal surveillance systems
> Sea strike operations
> Defence against asymmetric threats, speedboats and the boarding of terrorists
> Safety at sea
> Search And Rescue (SAR)

To learn more about CMN click here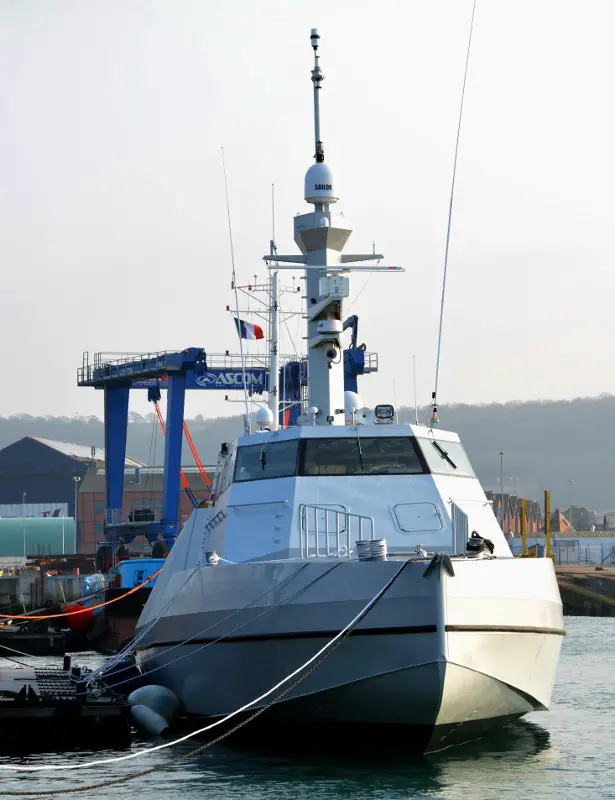 The first HSI32 Interceptor in the water at CMN shipyard in Cherbourg (Normandy). Picture: CMN