a
Naval Defense Industry News - India
GRSE Launched Indian Navy's Fourth Mk IV Landing Craft Utility (LCU) Vessel

Adding yet another milestone in India's quest for self-reliance in sophisticated shipbuilding, the fourth ship in the series of eight Landing Craft Utility (LCU) Mk IV project - Yard 2095 - for the Indian Navy was launched at Garden Reach Shipbuilders and Engineers Ltd (GRSE), Kolkata, here today (23 Mar 2015).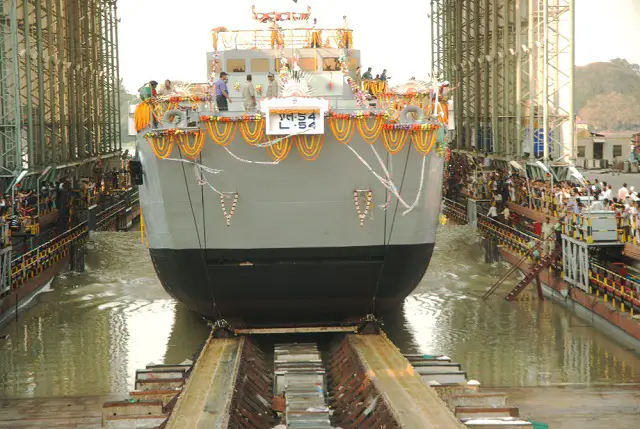 LCU L54 is the fourth vessel in the series of eight Landing Craft Utility Ships being built by GRSE for the Indian Navy. Picture: GRSE

GRSE had signed the contract for design and building of eight LCU ships from Indian Navy on September 2011. The remarkable feature of these LCU Mark-IV ships are that these have been developed in-house by GRSE as per requirements specified by Indian Navy.

The ships are designed for multipurpose amphibious operations that are jointly carried out by Indian Navy and Indian Army for ensuring maritime security of Andaman and Nicobar Islands in the Bay of Bengal, and Lakshadweep Islands in the Arabian Sea.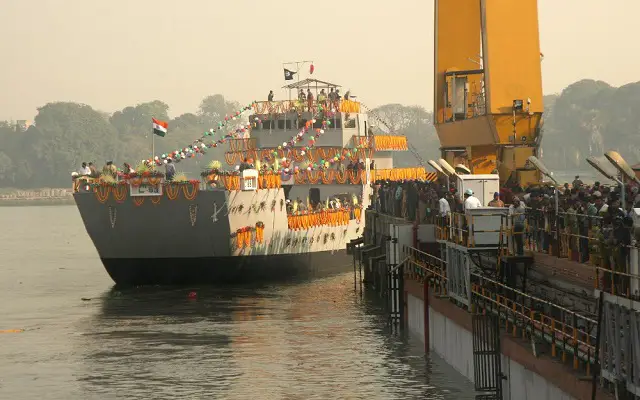 The Mk IV LCUs will play significant role in transportation of Main Battle Tanks, Armoured Vehicles and Troops of the Indian Army during amphibious operations. Picture: Indian Navy

The ships are designed to transport by sea and beach at far away islands, to deploy army tanks and troops. The ship is 63 metres long, 11 metres wide and displaces around 830 Tons.

With a maximum speed of 15 knots and an endurance of more than 1500 nautical miles, the ship is driven by twin-propeller fixed-pitch propulsion system powered by two marine diesel engines each developing 1840 KWs.

The ship can accommodate 216 personnel including 160 army troops. The bow ramp on the ship enables loading and unloading of combat equipment and vehicles on beaching. Ballast arrangement further ensures desired trim for smooth beaching operations.

Two 30mm CRN-91 mounted guns will provide artillery fire support during landing operations.

The launching marks completion of main hull of the ship, which will now be fitted out with essential equipment and systems before sea-trials and commissioning, which is expected before end of year.