a
Naval Forces News - Russia
Moskva cruiser (Project 1164 Slava class) flagship of Black Sea Fleet Joins Russia China Exercise
The flagship of Russia's Black Sea Fleet, missile cruiser The Moskva, has left for the area of the joint Russian-Chinese exercise in the Mediterranean, the fleet's spokesman, Captain 1st class Vyacheslav Trukhachev has said.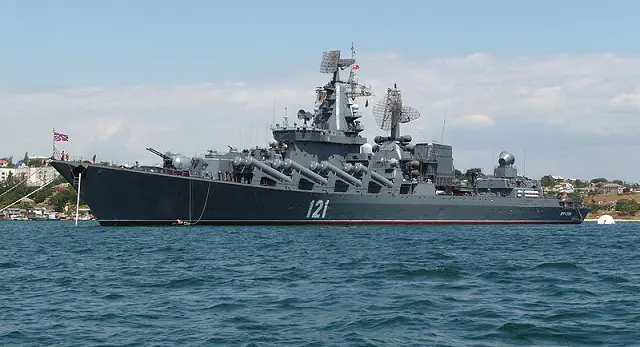 Project 1164 Atlant class "Moskva" cruiser, flagship of the Russian Black Sea Fleet
(Picture: George Chernilevsky)

"The Black Sea Fleet's flagship - The Moskva missile cruiser - has left Sevastopol to set course towards the Black Sea straits. In the Mediterranean it will team up with other ships of the fleet for a joint Russian-Chinese naval exercise," he said.

The active phase of the exercise will be held on May 17-21. The naval practices began with a special ceremony on May 11.
Project 1164 Atlant class "Moskva" cruiser, flagship of the Russian Black Sea Fleet

Nine ships are taking part. China has dispatched two frigates: The Linyi and The Weifang, and an auxiliary ship. Apart from The Moskva cruiser Russia has delegated the patrol ship The Ladny, two amphibious assault ships The Aleksandr Otrakovsky and The Aleksandr Shabalin, the missile carrying hovercraft The Samum and a salvage tug.
Earlier, the Russian Defense Ministry said the Joint Sea-2015 exercise will enhance bilateral cooperation and better joint resistance to threats to maritime security.
The Moskva (originally name "Slava") was laid down in 1976 in Shipyard 445 of the 61 Kommunara Shipbuilding Plant in Nikolayev, was launched in 1979, and commissioned on 30 January 1983. Slava returned to Nikolayev in December 1990 for a refit but was not returned to service until April 2000. Recommissioned as Moskva, she replaced the Kynda class cruiser Admiral Golovko as the flagship of the Black Sea Fleet.
Modernization and repair will extend the life of the ship until the end of the 2020s. Another vessel of the same class, the Marshal Ustinov
has just been refitted
.