a
Naval Defense Industry News - Turkey
IDEF 2015: ASELSAN ÇAFRAD, Multifunction, Phased Array Radar System Nearly Completed
On the occasion of IDEF 2015 (the International Defence Industry Fair which was held last week in Istanbul, Turkey), Navy Recognition contacted leading Turkish defense company ASELSAN to learn about the ÇAFRAD radar system, the radar that will be fitted on the future Turkish Navy Frigate TF2000 class. ASELSAN got back to us with the latest development in this major program: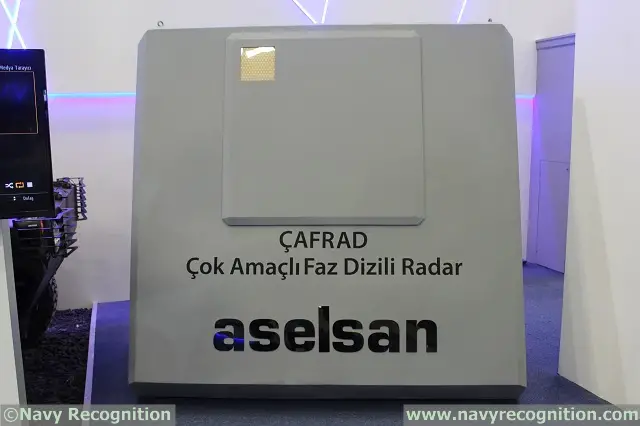 A ÇAFRAD radar element was on display on Aselsan stand during IDEF 2015
ÇAFRAD is a Multifunction, Phased Array Radar System which represent a common, scalable radar solution for the naval platforms. Development of the ÇAFRAD System is nearly completed, in scope of the contract signed between Undersecretariat for Defence Industries-Turkey (SSM) and ASELSAN in September 2013.

The system will include 3 radar systems working together to achieve the following missions:

» Multi Function Active Phased Array Radar:
o Volume and horizon search,
o Air and surface targets detection, tracking and classification,
o Small, low altitude and high velocity air targets detection and tracking
o Fire control quality target tracking.

» Long range Active Phased Array Radar:
o Long Range volume search,
o Air and surface targets detection and tracking.

» Active Phased Array Illuminator:
o Semi Active Missile Guidance


The back of the ÇAFRAD radar element showing how the system is modular

ÇAFRAD system will house tens of thousands microwave GaN based Transmit/Receive modules. ASELSAN established a high capacity serial production line dedicated to this program in their new Gölbasi, Ankara facility.
GaN power amplifier MMICs, that is one of the critical blocks of those T/R modules, is being developed in Turkey and will also be produced in Turkey. ASELSAN and Bilkent University jointly established a GaN foundry named AB-MikroNano in December 2014 responsible for mass production of GaN dies.
The ÇAFRAD system is intended to be fitted on board the future TF-2000 class anti-air warfare frigate of the Turkish Navy, currently undergoing development by the Turkish Naval Institute.
Navy Recognition
learned during IDEF 2015 that ÇAFRAD could also be fitted on a much smaller future
Fast Attack Craft project developed by RMK Marine
, which illustrates its scalability.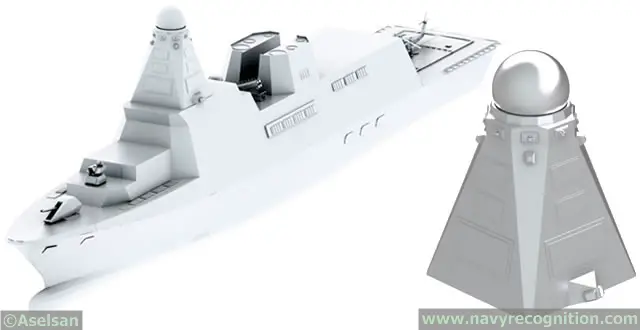 Computer rendering of the TF2000 Frigate (left) fitted with the ÇAFRAD system (close up: Right)