Terma to Support Royal Danish Navy Iver Huitfeldt Class Frigate BMD & IAMD Upgrade

| | |
| --- | --- |
| | The Danish Defence Acquisition and Logistics Organization (DALO) has entered into an agreement and signed a contract with Terma on Integrated Air and Missile Defense (IAMD). The aim is to provide DALO with study and advisory support within the Ballistic Missile Defense (BMD) and IAMD domains related to the Danish government's decision to upgrade at least one of the IVER HUITFELDT class frigates to a BMD sensor role and offer this capability to the NATO BMD system. |
a
Naval Defense Industry News - Denmark
Terma to Support Royal Danish Navy Iver Huitfeldt Class Frigate BMD & IAMD Upgrade

The Danish Defence Acquisition and Logistics Organization (DALO) has entered into an agreement and signed a contract with Terma on Integrated Air and Missile Defense (IAMD). The aim is to provide DALO with study and advisory support within the Ballistic Missile Defense (BMD) and IAMD domains related to the Danish government's decision to upgrade at least one of the IVER HUITFELDT class frigates to a BMD sensor role and offer this capability to the NATO BMD system.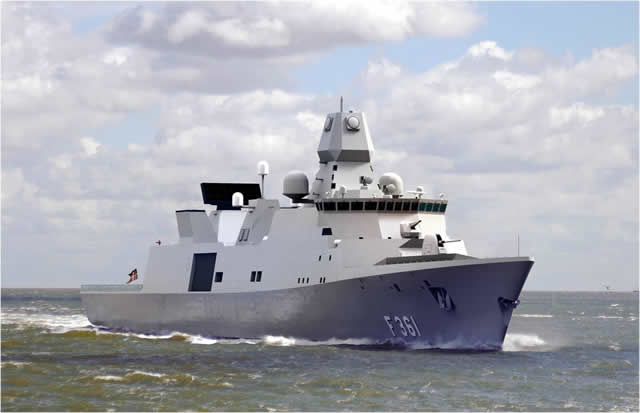 Iver Huitfeldt-class Frigate of the Royal Danish Navy

"Under this contract with the Danish Navy, we will leverage our extensive experience as the leading Danish company within the BMD and IAMD domains to support the Danish Navy in preparing for this capability to be added to the IVER HUITFELDT class multi mission frigates" says Thomas Blom, Senior Vice President, Command, Control & Sensor Systems, Terma.

Once fully upgraded with an IAMD sensor, the IVER HUITFELDT class frigate will provide a robust and relevant contribution to the NATO BMD system. "Because they were designed to be prepared for this mission, the frigate-based BMD offering to NATO is the most affordable option with the lowest risk for a country such as Denmark, while at the same time providing the only realistic pathway to a later engagement capability", Thomas Blom continues.

Terma's involvement in BMD began in 2004, where the Danish government signed an agreement with USA, allowing USA to upgrade the Thule radar as part of the U.S. BMD System. The agreement also called for industrial cooperation between the countries on technology.

Since then, Terma has been working in the BMD and IAMD domains with international partners, adding IAMD capabilities to our command and control systems as a response to the increasing threat and proliferation from ballistic missiles, which continues to drive the requirements for true IAMD systems covering all aspects of threats.

Terma has delivered command and control systems for sea-based Anti-Air Warfare (AAW) for more than 30 years, including the C-Flex command and control system to the present ship classes of the Danish Navy. The C-Flex command and control system is a modern, flexible solution that supports the full mission cycle for maritime domain security and surveillance by integrating the shipboard sensor and weapon systems to generate a real-time confident situational awareness display.

On board naval ships, Terma's C-Flex system will offer the tactical operators a true IAMD capability, delivering outstanding situational awareness of both AAW and BMD at the same time.