PLAN Liaoning Aircraft Carrier CSG Crossed the First Island Chain & Entered South China Sea
.a
| | |
| --- | --- |
| | The People's Liberation Army Navy (PLAN or Chinese Navy) aircraft carrier Liaoning and its escort entered today in the South China Sea after passing south of Taiwan, for what Beijing presents as a routine exercise. The Liaoning aircraft carrier, escorted by five vessels sailed 90 nautical miles from the southern tip of Taiwan via the Bashi Strait that separates Taiwan from the Philippines. |
a
Naval Forces News - China
PLAN Liaoning Aircraft Carrier CSG Crossed the First Island Chain & Entered South China Sea
The People's Liberation Army Navy (PLAN or Chinese Navy) aircraft carrier Liaoning and its escort entered today in the South China Sea after passing south of Taiwan, for what Beijing presents as a routine exercise. The Liaoning aircraft carrier, escorted by five vessels sailed 90 nautical miles from the southern tip of Taiwan via the Bashi Strait that separates Taiwan from the Philippines.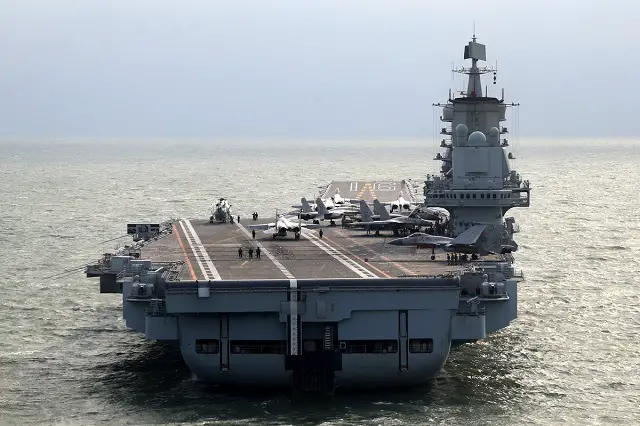 The PLAN Aircraft Carrier Liaoning crossed the "First Island Chain" for the first time.
On Sunday night, Japanese authorities said they spotted the six Chinese vessels, including the Liaoning, passing between Miyako Islands and Okinawa Island, in the Ryukyu Japanese archipelago, and penetrating into the Western Pacific (This area is usually reffered as "the first island chain" by China). This is significant as it is the first time that Liaoning crosses these islands. It was officially confirmed by a PLAN statement.

The Japanese MoD said today that the movement of this naval group illustrated the development of Chinese military power and that Tokyo was closely monitoring its progress. On december 25th, the JMSDF published the compisition of the Chinese CSG:
- Liaoning aircraft carrier.
- 2x Type 052C Destroyers (151 Zhengzhou from East Sea Fleet and 171 Haikou from South Sea Fleet)
- 1x Type 052D Destroyer (173 Changsha from South Sea Fleet)
- 2x Type 054A Frigates (538 Yantai and 547 Linyi from North Sea Fleet)
- 1x Type 056A ASW Corvette (594 Zhuzhou from South Sea Fleet)
- 1x Type 903A supply vessel (966 Gaoyouhu from East Sea Fleet)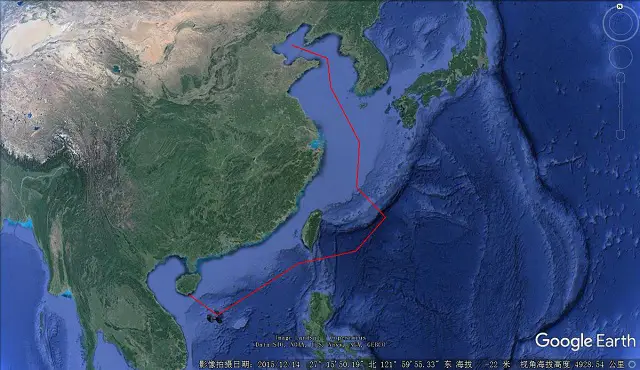 Expected path of the PLAN Aircraft Carrier Liaoning currently deployment
The composition of this CSG is rather interesting:
First because of the variety of ships coming from the three PLAN fleets which are not used to being affected together.
Second, because of its versatility with AAW Destroyers, ASW Frigates and Corvette, all supplemented by a refueling capacity at sea, plus at least 13 fighter jets and several helicopters.

Although this is not mentioned - neither in the PLAN statement nor in the Japanese Report - it is not excluded that a PLAN SSN, the Type 09III for example, is also part of the CSG to escort the first entry into the Western Pacific for a Chinese aircraft carrier.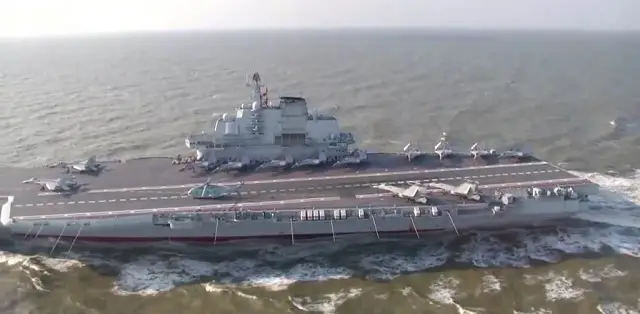 The PLAN Aircraft Carrier Liaoning deployed with at least 13x J-15 jets. A first!
The precise objective of this first crossing of the Chinese CSG in the Western Pacific remains unknown to this day, but it should be noted that Admiral HU Sheng Li, Commander-in-Chief of the Chinese Navy, was aboard Liaoning on December 23, one day before the group crossed the first island chain.

Given the "youth" of the Chinese naval air force with carrier opetations, it is unlikely that this event will be a demonstration of force that the media like to evoke. In the short to medium term, it is almost certain that the Chinese navy will not directly use its first CSG to confront, for example, those of the US Navy.

The Chinese navy appears to be conducting a validation campaign to check the "resistance" of its very young carrier air wing. Secondly, the objective is probably to check whether the crew is ready to step out of the first stage of basic skills acquisition before moving on to the next stage and more complex operations in a " full-scale " field test.

In other words, a "final examination" after four years of apprenticeship, to find out if the first Chinese CSG is able to defend itself and to maneuver on the high seas.

With information from our partner Eastpendulum
Chinese TV coverage of Liaoning current deployement